The audio interface: it's one of the most important pieces of any recording setup. From multi-million dollar studios to bedroom recording rigs or independent podcasting setups, the interface is the way that sound gets into and out of your computer. It's the thing that lets you capture your sounds, and to hear them again in a new musical context.
Of course, audio interfaces come in all shapes and sizes, and if you're not already familiar with them, it can be difficult to know how to pick your first audio interface altogether. How many inputs do you need? How many outputs? What sort of audio resolution should you be looking for? Luckily, we answered many of these questions in our article Which Recording Interface Is Right For You?—so if you haven't checked that out, we'd strongly recommend giving it a once-over. It'll tell you all about what an audio interface is, how it works, and how to start to understand the differences from one interface to the next.
But even with all of that knowledge under your belt, you like realize that there are a lot of audio interfaces out there. And because of that, we decided to put together this article, which highlights some of our personal favorite audio interfaces, and points out what we think makes each of them special. All of the interfaces in this article come in below the $500 mark—so if you're just getting started with home recording, we expect there'll be something here that will work great for you. Let's dive in.
Compact and Best In Class: MOTU M-Series
MOTU's M-Series was made for those looking for a signal path with uncompromisingly clean, high-quality sonic results. MOTU's most compact lineup of interfaces, the M-Series includes the two-input, two-output M2, the four-in, four-out M4, and most recently, the 6-in, 4-out M6. Let's take a look at what collectively makes these particular interfaces so interesting.
Each of these models offers two mic preamps (four on the M6) with individually selectable options for +48V phantom power and direct monitoring. Moreover, each model is bus-powered, making them easy to power wherever you may be. The M-Series provides parallel 1/4" and RCA main outputs (1/4" only on the M6) to choose from, with separate level controls for the main output and headphone outputs. Notably, the M2 and M4 each have a single headphone output, while the more fully-featured M6 offers two headphone outputs with independent level controls, great for situations when you're mixing or tracking with friends.
All models in the M-Series also feature full MIDI I/O over 5-pin DIN, a subject MOTU is quite well known for with their MIDI interface series. Additionally, they offer easy loopback functionality, making it simple to capture audio from other programs on your computer into your DAW.
Getting into the nitty-gritty of what makes the M-Series so special, MOTU makes stellar interfaces that contain some of the most premium components, no matter which line the product is from. The M-Series uses the same ESS Sabre32 Ultra DAC technology found in their higher-end interfaces, producing a highly accurate sonic representation with remarkable dynamic range…pushing up to 120dB! You also get some of the most accurate and pristine preamps available, sporting an EIN of -129dBu for fantastically low noise. Frankly, these specs are remarkable at any price point, and most competitors simply can't touch them. Not to mention, the premium metal build and stylish full-color LCD screen complement the sound quality nicely.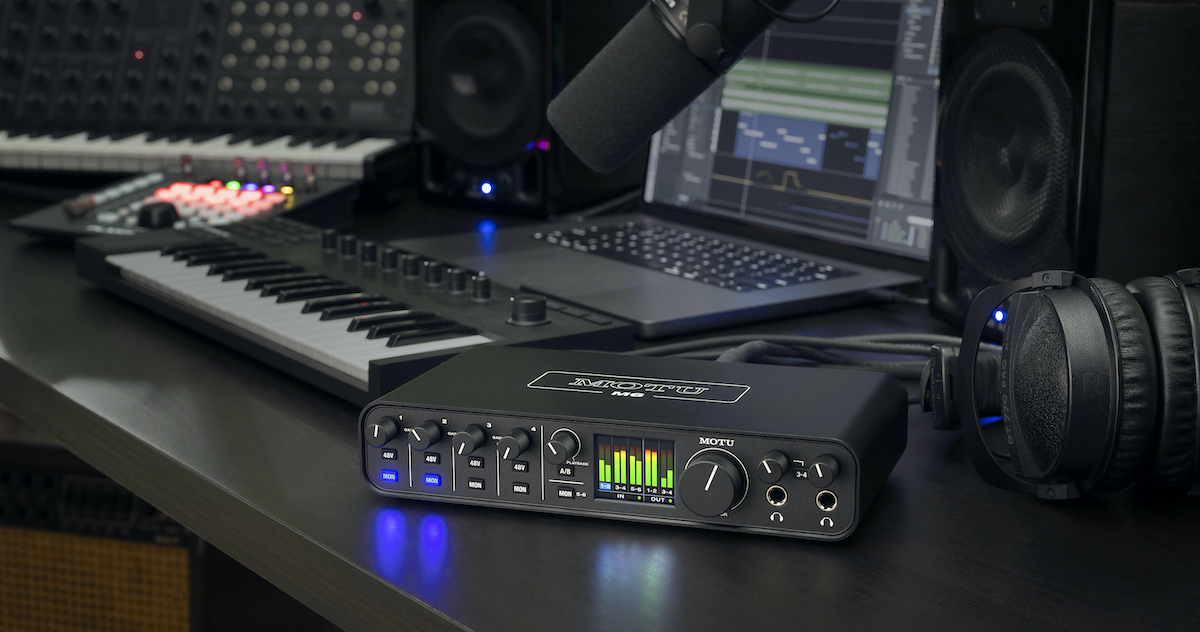 Need a quick rundown of the differences between models in the MOTU M Series? No problem—the differences purely have to do with the total I/O count on each unit. The M2 offers two combo mic/line/guitar inputs and two outputs (with duplicate 1/4" and RCA connectors). The M4 ups the total I/O count, retaining two mic/line/guitar inputs, and adding two additional line-only inputs without dedicated preamps. Similarly, the M4 adds two extra line outputs (again, offering both 1/4" and RCA connections for all outputs). The M6 goes even further: it features not two, but four mic/line/guitar inputs with preamps, and an additional two line-only inputs. It offers four line outputs, but dispenses of the RCA outputs and only offers 1/4" outputs—perfectly fine in the vast majority of studios and live setups. Additionally, the M6 features two headphone outputs, while the M2 and M4 each offer only a single headphone output. Aside from that—they all offer the same specs and same stellar sound quality. Given the price, we'd recommend that basically anyone spring for the M6...but if it's overkill for your setup, the M2 and M4 will sound every bit as excellent.
A final note we'd like to touch on is how stellar the connectivity options are with MOTU devices, altogether…and the M-Series does not lack in this department. If you're on the go like many musicians and producers are, the compact nature of the M-Series goes well with the fact that the M2 and M4 works over Windows, Mac, and even iOS, great for easy recording and performing right from your iPhone! Even though you require a camera connection kit, that is still quite the feat for anyone looking to make the most out of a surprisingly competent music technology device such as an iPhone. Furthermore, the I/O supports standard mic, line, and instrument-level gear so there's no worries for whatever you throw at the M-Series.
Bonus tip: for all you modular enthusiasts out there, the M Series's 1/4" TRS audio outputs are all DC-coupled…so simply grab some floating ring cables and you can easily use your computer as a control voltage source for your modular system via Ableton's CV Tools, Bitwig's Grid, or other programs such as Max/MSP, Supercollider, Pure Data, VCV Rack, and more. The M4 and M6 in particular are a great choice in this regard, since they offer two additional DC-coupled outputs independent of the main audio outputs.
MOTU's M Series Audio Interfaces
Compact Solid State Logic Sound: SSL 2, SSL 2+, & SSL 12
As far as pro audio brands are concerned, few have maintained a legacy like Solid State Logic. SSL has been held in high regard for over 50 years, with their legendary 4000 series consoles on equal footing with the likes of Neve and API. Today they continue to produce channel strips, 500 series modules, and mixers with spirit and quality of those consoles in mind. But perhaps the best way to get the SSL sound on a budget is likely also the most convenient: the SSL 2 and SSL 2+ USB audio interfaces.
Packing stellar converters and Solid State Logic character at quite an affordable price point, the SSL 2 and SSL 2+ are slim and sleek interfaces equally at home in studios for beginner, intermediate, and advanced users. Both interfaces sport two high-quality SSL preamps, supporting microphones—with the option for +48V phantom power—as well as line-level and instrument sources. These pres are not only supremely clean, but also come equipped with 62dB of gain on tap for boosting up any signal to healthy level, supplemented by AKM converters capable of recording up to 192kHz/24-bit.
SSL could have stopped there and these would already be killer compact interfaces, but it's the 4K Legacy button on each input channel that really brings things to another level. While imparting a subtle difference, the 4K mode engages analog circuitry to boost high-end frequencies and apply slight harmonic distortion—crisping things up in such a way that clairty is maintained but still imparting that sonic spice of SSL console flavor. Being able to do this independently on each preamp means that one or both channels can apply 4K magic to vocals, guitars, drum machines, or any other audio source.
Of the duo, the SSL 2+ is a solid, all-rounder interface for getting any basic recording job done. While it shares the same core features with the 2, the 2+ is the ideal choice for someone who wants the SSL 4K sound but would benefit from additional audio I/O and MIDI connectivity. Additionally, a second headphone output with independent level control gives the 2+ an advantage for collaborative settings, allowing an engineer and talent to each listen back comfortably or two players to monitor themselves while tracking. Thus the 2+ is a great, full-featured solution for anyone starting out in the recording world with a craving for premium sound quality, or for an established engineer that needs a portable but still full-featured interface for mobile work.
The most recent addition to the lineup is the SSL 12, which expands on the concepts of the 2 and 2+ by giving you more I/O options. The 12 offers four analog inputs, each with the same style of preamp found in the 2 and 2+—appropriate for mic and line signals, and offering independently-selectable phantom power, low cut filter, and Legacy 4K options for each channel. Additionally, the first two inputs also offer instrument-level inputs.
The SSL 12 offers four analog outputs (all on 1/4" jacks), MIDI I/O, two independently-controllable headphone outputs on the front panel, and even an ADAT input...meaning that, with appropriate outboard hardware, you can expand the SSL 12 to have a full twelve simultaneous inputs. It also offers a built-in talkback microphone and corresponding controls. This combined with the two independent headphone outputs means that it's dead simple to set up independent mixes when tracking with a collaborator, all while maintaining the ability to communicate with them in an isolation booth. In brief, the 12 takes the pure sound quality of the 2 and 2+ and fills out the feature set to create an affordable, but great-sounding interface that could cover a huge range of distinct recording scenarios. While the 2 or 2+'s form factor make them a somewhat better choice as an on-the-go interface, the SSL 12 is our strongest recommendation from the series for anyone looking to start building their own home recording studio.
SSL's Affordable Audio Interface Solutions
Loads of I/O: Audient EVO 16
MOTU and SSL's affordable interface options are, simply put, excellent—but what if you need an interface that has more analog inputs? Heck, what if you need an interface with more analog outputs too? Most interfaces in the sub-$500 range limit I/O to around four or six ins and outs, but happily, a recent entry to the scene ups this number: I'm talking about the Audient EVO 16. Audient is, of course, well-known for their high-end console and audio interface technology—but the EVO 16 represents perhaps the best value in any device they've ever produced.
EVO 16 features a remarkable eight analog inputs and eight analog outputs. What's more, each of these inputs offer EVO microphone preamps—so, each input is easily capable of handling mic, line, or instrument level signals. Offering precise digital control of preamp levels and realtime signal level meters, it's easy to dial in exactly the right gain for each channel; and you can even assign stereo input pairs to know that you have perfectly matched gain between the channels. The Smartgain function allows you to quickly/easily assign gain levels at the push of a button: great for setting up more complex sessions with lots of simultaneous inputs. The EVO preamps offer ultra-low distortion, and the converters give you 121dB of dynamic range—so you'll be able to capture clean, crisp, noise-free recordings with ease.
Beyond the stellar preamps, EVO 16 gives you eight simultaneous analog outputs, all over 1/4" TRS connections. It's likely you'll use two of these for your main monitor outputs, but that leaves six additional freely-assignable outputs...great for reamping, setting up multichannel surround sound environments, or alternate speaker pairs for A/B-ing your mixes.
Additionally, EVO 16 offers not one, but two ADAT inputs and two ADAT outputs...so if you have other ADAT-equipped hardware, you can expand your channel count significantly—for a total of up to 24 simultaneous analog inputs and 24 simultaneous analog outputs: more than you should need for the vast majority of home recording, performance, or installation situations. Worth note, it doesn't include a built-in MIDI interface—so if that's a requirement for your purposes, you'll need an additional interface for handling MIDI communication.
Combine a streamlined UI with tons of I/O, and put it all in a single, sleek, desktop-appropriate package? For many, we expect the Audient EVO 16 will prove to have the best bang-for-your-buck of any interface in its price range.
Vintage Sound On a Budget: Universal Audio Volt Series
Universal Audio's Volt line of audio interfaces is their first foray into the world of budget interfaces. They have somehow managed to keep the cost down while providing the same incredible build and sound quality that you've come to expect from UA. Offered in several different flavors, there is certainly a Volt that will fit your needs and you budget—each of them falls well below our $500 price limit.
All of the Volt interfaces have DIN MIDI input and output ports, and are capable of recording up to 192kHz, 24-bit sound quality. All the interfaces feature a Vintage Preamp mode that adds a little bit of extra harmonic juice designed to emulate a vintage tube preamp. UA is known for their incredible hardware modeling, so this vintage mode is no gimmick—it adds a rich depth to anything you record.
The simplest interfaces in the series are the Volt 1 and Volt 2, which give you one or two simultaneous input channels respectively, each equipped with XLR-1/4" combo jacks. They feature independent monitor and headphone volume controls, and each input supports mic, line, and instrument level signals…so these interfaces are great for virtually any sound source. Of course, given the Volt 2's dual inputs, it's the clear winner if you need to record any stereo sound sources. If you're just planning on tracking vocals, guitar, or other mono sources one track at a time, then the Volt 1 is a great choice. More recently, Universal audio also introduced the Volt 4: offering two inputs with XLR-1/4" combo jacks and corresponding preamps, along with two rear-panel line inputs on 1/4" jacks. The Volt 4 also features two main monitor outputs and four additional assignable line outputs, making it an all-round better choice for folks who need to track several sources at a time, or need greater flexibility of signal routing than the smaller Volt 1 and Volt 2 will allow.
Universal Audio's Standard Volt Interfaces

Beyond these three, though, are the Volt '76 interfaces, which are available in four different configurations: Volt 176, Volt 276, Volt 476, and most recently, the Volt 476P.
Much like the aforementioned interfaces, Volt 176 and Volt 276 are one- and two-input interfaces, respectively; where they differ from the standard Volts, though is with the addition of an authentic emulation of the classic UAD 1176 compressor built into each mic channel. In addition to all of this, Volt 476 gives you two more channels of line inputs, as well as four line outputs in addition to the monitor outputs. When you engage the 76 Compressor, you have access to VOC, GTR, and FAST settings, which change the characteristics of the compressor to suit your needs. Like the standard Volts, these interfaces also offer the Vintage Mode; and when combined with the 76 compressor, this gives you access to a huge range of tones.
The new Volt 476P goes a step further, giving you fully featured preamps with Vintage mode and the '76 compressor options on each channel—great for studios that need to track several microphones or instruments simultaneously. For those with multi-instrument setups, it's our strongest recommendation of the set—and once again, it falls below the $500 price point.
Any of these interfaces are a great value and will not disappoint: Universal Audio is synonymous with quality and high fidelity; with this series, it's easier than ever to attain that quality on a budget. Beyond that, all models of Volt interface include a software bundle with products from Ableton, Softube, Celemony, and a trial for UA's Spark plugin collection—giving you a DAW and additional plugins so that you can get started recording right away. The Volt 2 Studio Pack and Volt 276 Studio Pack also include a microphone, XLR cable, headphones, and a bundle of recording software and plugins—so there's nothing in the way of getting started recording (though you may want to add a mic stand!).
Additional Volt '76 Audio Interfaces

Best Entry-Level Audio Interfaces: Focusrite Scarlett Series
Focusrite has long been a leader in the world of affordable audio interfaces. The Focusrite Scarlett series in particular has proven a great start to many home studios and live performance setups. These interfaces match a rugged build quality and reliability with crystal-clear sound quality and a no-nonsense feature set that helps you focus on making music rather than fiddling with tedious setup and technical issues. Just plug into your computer, and you're ready to go.
One reason for the Scarlett series's popularity is that it's available in a wide range of options—with several models each featuring different I/O counts and other features that suit different recording scenarios. Before diving into some specific recommendations, let's talk about what all Scarlett interfaces have in common.
Every Scarlett interface provides top-of-the line mic preamps revered for their clarity. They also feature high-headroom instrument inputs; and because of this, they're just as well-suited to instrumental recording (guitars, bass, etc.) as they are vocals, spoken word, or anything else you can throw at them. This makes them great for singer-songwriters, instrumental performers, and electronic musicians alike. All Scarlett interfaces also include "Air" mode, which adds high-end presence and sparkle to the input signal…adding subtle emphasis, clarity, and color to your voice or instrument. Scarlett interfaces connect to your computer via USB; they have both XLR and ¼" inputs, easy monitoring control (including a direct monitoring option for zero-latency monitoring), and all models except Scarlett Solo and Scarlett 2i2 also feature 5-pin MIDI I/O…making them a great choice for electronic musicians.
For instrumentalists working in a home studio, the Scarlett Solo and Scarlett 2i2 are some of our top recommendations. The Scarlett Solo features two simultaneous audio inputs: one for microphone (complete with Air option), and one for line-level or instrument-level signals. This makes it a great choice for singer-songwriters, or musicians who need to record a combination of mic'ed and direct sound sources. The Scarlett 2i2 expands on these capabilities. While it also has two simultaneous inputs, each of them supports mics and direct signals at line or instrument level—meaning that it's as easy to record multiple mics as it is to record the stereo output from a drum machine or synthesizer. The Scarlett 2i2 Studio Bundle and Scarlett Solo Studio Bundle both include headphones, a condenser microphone, and an XLR cable for getting you started recording, as well.
For those with a more extensive studio setup, the Scarlett 8i6 presents a remarkable value. Like the 2i2, it features two mic preamp channels (which also support line and instrument-level signals). Each of these have switchable pads (great for particularly loud sources) and access to Air mode. Additionally, the 8i6 provides four more line inputs on the rear panel—meaning that you can use it to record up to six channels of audio at a time from your synths, drum machines, microphones, or anything else you can plug in. The 8i6 also features MIDI I/O on 5-pin DIN connections, making it easy to connect to your external instruments for extended interaction between your computer and synths.
In addition to its extensive input options, it provides interesting output options as well. It features four TRS line outputs—great for sending your sound to multiple monitor pairs, or for accommodating re-amping, quadraphonic audio output, and more. It also has two front-panel headphone outputs with independent level controls. All in all, this makes an excellent interface for all sorts of setups, and one we wouldn't hesitate to recommend for home studios, bedroom producers, live electronic performance setups, or just about any other recording/performance scenario.
That said, the Scarlett line is comprised of six distinct interfaces—and from our perspective, the most important functional difference from model to model is the number of inputs, outputs, and MIDI connectivity. They all have awesome preamps, a rugged build, and audio quality up to 192kHz; so if you want something reliable that sounds great, these are an excellent choice. Additionally, they include a software bundle with everything you need to get started recording, from DAW and effect plugins to samples and beyond.
More Members of the Scarlett Family
Sleeper Hits: Steinberg UR Series
Steinberg, known for their iconic composition, music production, and audio editing software, may not be the first company in mind when you think of audio interfaces…but perhaps they should be.
Truly, the Steinberg UR-series of audio interfaces are some of the most capable interfaces for integrating into any producer, sound designer, or mix engineer's studio. If we purely look at the stats, the UR series sports up to 24-bit/192kHz sound quality, Yamaha's class-A D-Pres (which support up to an astonishing ~102dB of gain), and loads of connectivity options for working with Windows, Mac, and even iOS operating systems. Those features alone make for feature-packed interface options for musicians looking to record or perform in any setting…but the fully metal enclosure and rugged build quality certainly don't hurt.
Many of the UR interfaces included in this range within the $500 range are made for two to four-input needs. Many models use USB 2.0 connectivity for reliable and high-speed connection…however, untis with model names ending in "C" use USB-C for even faster data transfer, 32-bit recording resolution, and even onboard DSP for immediate results without sacrificing your computer's CPU. DSP includes latency-free monitoring even with FX in Cubase enabled, high-pass filtering, REV-X reverb, and Yamaha's Sweet Spot Morphing Channel Strip. This integration of applying effects that can simply be monitored and/or printed is not solely kept by the C iterations, but also found in interfaces like the UR-RT2, a phenomenal collaboration between Steinberg and Rupert Neve.
One of our top picks for compact interfaces altogether, the UR-RT2 is definitely the choice of the UR-series for those looking for high quality sound with rich timbral magic in every recording. Although it's only 24-bit and accessed via USB 2.0, the UR-RT2 adds the lush and powerful sound of Rupert Neve transformers right into the class-A D-Pres. The transformers deliver harmonic presence and expressivity throughnatural compression and saturation, pushing with every bit of gain you add to your incoming signal. This feature alone will deepen the texture of any incoming sound, be it an instrument, vocal, or any line-level signal. And with loopback functionality for streaming live, your sound will crush the competition with studio-quality magic.
Honorable Mention: ESI Audiotechnik
All of the interfaces we've discussed so far were designed with maximum flexibility in mind: they were created in the hopes of appealing to as wide an audience as possible. As such, they combine features to address fairly common musical needs; and as we've seen, most often, they're available in very obvious series of devices, which mostly differ in number of inputs and outputs. But…sometimes you need something that wasn't designed for common musical scenarios.
That's where a company like ESI Audiotechnik comes in. ESI makes a wide range of interfaces—many of which are tailor-made for highly specific scenarios, and deliver their highly-curated features without extra fluff or features…making them quite affordable and uncommonly practical for some not-entirely-common applications.

For instance, sometimes you just need outputs: a lot of outputs—beyond quadraphonic and into the realm of surround sound, with 5.1, 7.1, or 8 discrete channels of audio. Usually, you can't get this sort of functionality for a reasonable price, as interfaces with over 4 outputs are usually coupled with just as many inputs, or additional features that you may not need.
ESI has heard the call from sound artists and surround sound studios alike by creating the GIGAPORT eX. This is a straight-forward, simple interface that connects with a USB C cable—which also provides its power—and works without special drivers or software. The front has two independent 1/4" headphone jacks which you can use as basic stereo outputs, while the back has eight RCA jacks.
Don't let the small size fool you, as this can push out some serious volume. Its size and convenience alone are enough for us to give it a solid recommendation, however, it is also the lone option when looking for an interface that only provides multiple, independent outputs without jumping into a higher price range. Also, the fact that it requires no additional routing software to work makes this an easy thing to set up so you can start making sound quickly.
Don't need a full eight outputs? Need a handful of inputs, while you're at it? Another favorite ESI interface is the MAYA44 USB+, a no-nonsense four-input, four-output interface with a similarly minimal profile and low price point. Again using RCA inputs for its line inputs and outputs, the MAYA44 USB+ is a great choice for quadraphonic audio work, or just for on-the-go recording sessions with multiple instruments. ESI isn't necessarily for everyone…but when you need something specific, they're an excellent place to look.
So, Who are These Good For?
Frankly, it's hard to go wrong with any of these interfaces—but with so many good options, you're probably wondering...how do I pick between them? Well, odds are that if you're gravitating to a particular series or particular unit already, it will serve you well; if these are your options, there's no point second-guessing your instincts, as every option we've listed is perfectly trustworthy and great-sounding. But if you're waffling between a couple of different options, here's some general gentle advice.
If you're looking for a solid entry-level interface for recording a wide variety of sound sources—maybe voice, maybe guitar, maybe electronic instruments, etc., then I'd recommend taking a look at the Focusrite Scarlett series. They're great all-around interfaces that will do a solid job for most applications, and their features:price ratio is excellent.
If you're looking for a no-fuss, super clean, high-headroom interface with MIDI I/O (and even DC-coupled outputs?) then I'd personally go for the MOTU M-Series. Those are personal favorites of many of the staff here at Perfect Circuit.
If you're an instrumentalist or vocalist looking to add some warm, fuzzy, vintage hi-fi flair and focus to your tone, I'd strongly recommend considering UA's Volt series (especially the '76 models), SSL's 2/2+/12, or the Steinberg UR-RT2. These all present a unique take on vintage consoles and hi-fi gear, aiming to bring the sound of real studios into home recording rigs. Between the SSL 4K mode, UA "Vintage" and "76 Compressor" modes, and the UR-RT2's Neve transformers, you have a lot of options for classic sonic coloration—though personally, I find the variety of sonic options on the Volt series quite compelling.
In the end? No matter which of these you choose, it's going to sound amazing. My best advice is simply to make a choice, and get straight to recording—having the right tools is important, but having the practice under your belt is what will really take you far as an engineer and artist.
Even More Excellent Interfaces