We continue The Mojave Desert Modular Experiment, a series dedicated to exploring how experienced musicians integrate modular synthesizers into their music. We worked with some of our favorite Los Angeles-based artists to create modular synthesizers that could fit into their extant workflows—despite the fact that none of them had used modular systems before.
The explosion of the Eurorack format over the last decade has revealed the demand for open-ended, adaptable musical systems—personalized instruments that can be expanded and changed according to the musician's evolving needs. Because modular synths are so flexible, we were curious to see what some of our favorite local artists would do with them, given they've never dealt with the concepts of the Control Voltage (CV) and Gate before. We lent five systems to four acts for a couple of weeks, then headed to the neighboring desert to document their performances.
The Artist: Patrick Shiroishi
Patrick Shiroishi is a composer, improviser, and multi-instrumentalist best known for his enthralling manipulations of the saxophone family. Over a few decades of rigorous practice and live performances, Patrick sonically weaponized his instrument, effectively turning it into a powerful tool for radical musical expression. The scope of Patrick's musical output ranges from hypnotic textural drones to the volleys of fierce free-jazz shrills. Because of the stylistic breadth of his recordings and performances, we were dying to hear what sounds the marriage of his sax and a modular synth could produce.
Although Patrick is already adept at creating all sorts of familiar and otherworldly noises with the sax alone, he is also no stranger to processing and manipulating the sound of the instrument beyond its acoustic capacity. Often in his live sets, Shiroishi runs amplified saxophone through a chain of guitar pedals, profoundly altering the tone of the instrument. We wanted to go further and expand on this idea. We collaborated with Patrick on designing a system that would quench his thirst for destructive sound processing, but would also be capable of interactivity, akin to performing with a fellow improviser in the form of a machine.
System Breakdown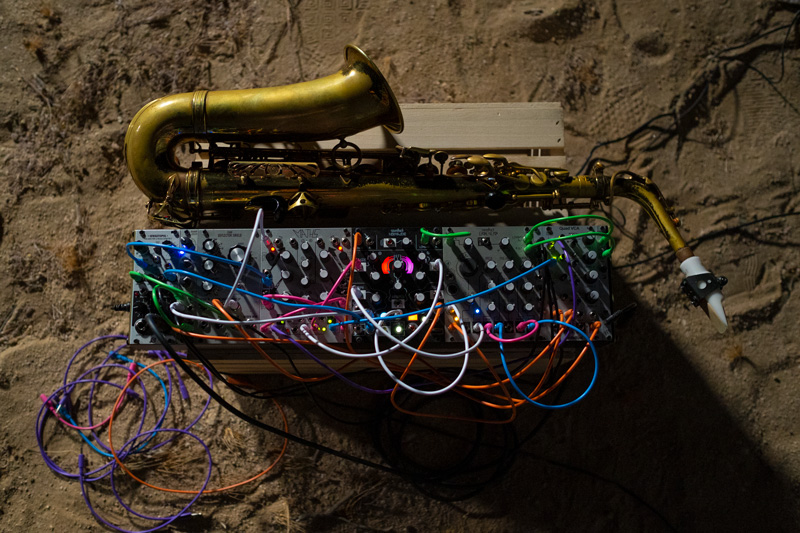 We built the system using a top-down approach: deciding on the key sound mangling ingredients first and adding utilities later as needed. After a couple of hours of experimentation, Patrick stopped on the Make Noise Morphagene as the central processing element of the system. As a sampler capable of live recording and overdubbing, it fits perfectly into processing-oriented setups—and of course, the module's capacity to go beyond traditional sampling/looping and into granular microsound territory promises unexpected and exciting results. Our initial intention of turning the system into a co-performer was also satisfied, as the wide variety of modulation-ready controls on Morphagene makes it a great choice for interactive applications. Recording, splicing, scrubbing, changing sample length, and overdub amount—all can be easily automated on the fly. For example, in combination with Sewastopol II (discussed later in the article), Patrick could trigger recording at a certain volume threshold and use loudness contours to modulate the parameters of the recordings.
In terms of effect processors, we have settled on three modules that proved to complement each other quite well. WMD / SSF MMF is not only extremely compact, but it also delivers top-notch sound and a few unique options. The ping input on the module allows the filter to be used as a percussion source, producing clean bongo-like sounds whenever gate or trigger signals are sent into it. The FM input offers the potential for the creation of complex timbres. All in all, it would be hard to find another filter of this size that offers so many options for sonic manipulations.
The E560 Deflector Shield from Synthesis Technology delivers insanely interesting tones when paired with a saxophone (although something tells us that other instruments would work just as well). E560 is designed to do three things: ring modulation, frequency shifting, and phase shifting; and it does all of them with exceptional quality and with a very unique flavor.
For atmospheric effects, the best thing to come to mind was Erbe-Verb from Make Noise. Again, what separates this reverb from the rest is its innate reconfigurability. Every parameter can be manipulated and automated in real time, creating ethereal effects and sensations unlike anything else, which sometimes seem as if the sound is ripping through time and space. A particularly useful trick discovered in Patrick's experiments was using his saxophone's loudness to inversely affect the decay time or size parameters of the Erbe-Verb, so that whenever he would play louder, the perceived space would shrink—an effect that is simultaneously disorienting and satisfying.
To further the system's interactive potential we have added the brilliant Make Noise Maths. It is easier to say what Maths cannot do than to list all the options that the module offers. Described by Make Noise as an analog computer, Maths truly lives up to this description as its functionality can be altered and reconfigured based on the way it is patched. Triggered envelopes, simple and complex LFOs, and audible oscillations are just a fraction of its possibilities. What is important in the context of Patrick's system is that the open-ended nature of the module significantly influences both the interactivity of the performance and the final output itself.
Now let's get down to the details of the system—elemets that may not seem as exciting as effects, yet really tie things together, turning a collection of modules into an instrument. If you've been following this series of articles, you are already familiar with the XAOC Devices Sewastopol II. At its minimum, the module is designed to accept line/instrument level signals, and boost them up to modular level. Additionally, Sewastopol II allows the musician to turn elements of their performance, such as loudness and onsets of notes and phrases, into modulation signals used to control other modules. The circuit that executes the task is known as an envelope follower. It stands as an essential feature for building combo electronic/acoustic setups with modular synths.
We also added Intellijel's Quad-VCA. This module is comprised of four voltage controlled amplifiers that work as well for audio signals as they do for control voltage. There are many possible applications to this module: from simple 4-to-1 mixing to tremolo effects, control voltage attenuation, and signal distribution for parallel processing.
The system was complete with the addition of ALM Busy Circuits' HPO: a dedicated headphone output for listening convenience.
Featured in Patrick's System
Putting together a unique modular system is one thing, but seeing and hearing it being used is a whole other experience. Modular synthesizers are known for their never-ending sonic variance, so putting one in the hands of an accomplished and skillful improviser almost always produces fascinating and highly personal results. Patrick's performance delivered powerful energy and evolving, morphing textures: a synthetic and acoustic blend that instantly put a smile of satisfaction on our faces.
Remember, during the whole month of July these systems are on display in our showroom. If you are in Los Angeles, feel free to drop by our store and explore the instruments yourself. Stay tuned for more!