For many, Roland's Juno series synthesizers are the pinnacle of synthesizer design: simple, easy-to-use polyphonic synths with a distinct and evocative sonic character. They made a powerful impression when first introduced, used by musicians ranging from Madonna to Duran Duran, A-Ha, Enya, and countless others. So deeply embedded in the sound of 1980s pop, these synthesizers still carry with them a distinct feeling of nostalgia—and many modern musicians now use them to evoke the sounds of the past, creating an immediate and powerful air of nostalgia. But what made these synthesizers so special to begin with?
When it appeared on the market in 1982, the Roland Juno-6 was the first polyphonic synth to be sold for under $2,000. Arriving after the Oberheim OB-X and Sequential Prophet-5 in the 1970s and Roland's Jupiter-8 from 1981, the Juno-6 was considerably more affordable than its competitors. It offered powerful presets and easy-to-use capabilities at a fraction of the price. In doing so, the Juno-6 changed what was expected for synths at that price point, and set a new standard that developers scrambled to achieve.
Juno-6
The 61-key Juno-6 offered one oscillator per voice (with two selectable waveforms) and a powerful filter section that had a non-resonant high pass and resonant low pass filter. It was capable of stunning six-voice polyphony, heightened by the two types of rich chorus effect that were built in.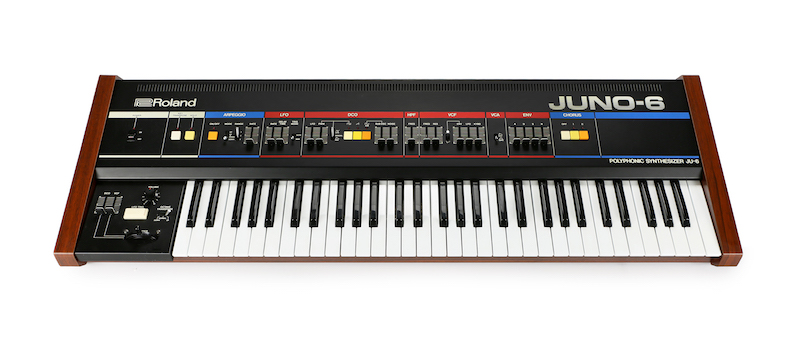 The Roland Chorus became a famous feature and favorite effect on the Juno-6. The chorus effect works by sending a signal to two hard-panned delay lines. The amount of delay is modulated with an LFO, which causes gradual changes in the frequency of the resulting signal, thus varying the copied signal's pitch. By altering the left and right channels' delay rates inversely and then combining the wet signal with the dry signal, this achieves a stereo chorus effect. As a result, the chorus effect creates a thicker sound, to almost make it sound as though there's more than one oscillator slightly detuned from one another. The Juno-6 chorus effect remains one of its most notable characteristics—noisy, but much-loved for its swirling spatial textures.
One of the Juno-6's other defining characteristics was its digitally controlled oscillators (DCO). Used for the first time by Roland in the Juno-6, these oscillators kept the synth's tuning far more consistent and stable than traditional analog designs. In most voltage-controlled oscillators, the ramp generator core's stability is impacted by environmental factors including changing temperature. Digitally-controlled oscillators, though, use a digital counter rather than relying on voltage to maintain more consistent ramp behavior. So the Juno-6 employed an analog oscillator with digital control to keep the synth stable, and make it more reliable. These oscillators were able to produce variable pulse, sawtooth, and sub pulse outputs.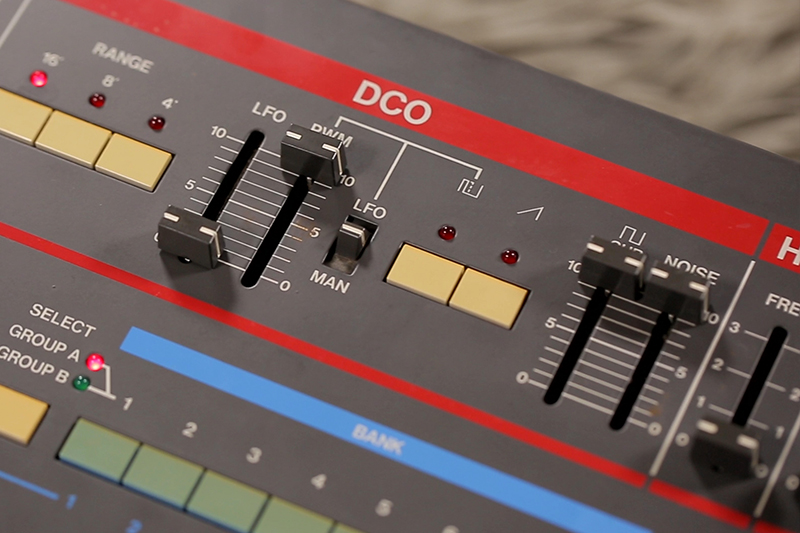 DCO section on the later Juno-106
Its arpeggiator stood out. It had a selectable range of up to three octaves, and three different modes that related to the direction of note movement—up, up and down, or down. A fader also controls the rate, which relates to how fast the arpeggiator moves. The arpeggiator rate could also be controlled by an external sequencer or other gate source via the arpeggio clock input. At the time of its release, the arpeggiator was still a somewhat novel concept: it enabled players to create huge, animated textures without necessarily being virtuosic keyboardists. As such, songs of the '80s started to embrace rigidly-clocked synth arpeggios as important elements—and in many ways, this feature became a defining characteristic of many synth-related pop subgenres.
With the Juno-6, Roland brought polyphonic synthesis to the public. It was a gateway synth that was easy to use, understandable, and sounded great from the get-go. This meant musicians working in a range of genres made use of the Juno-6. Madonna's 1983 "Borderline" from her eponymous debut album featured the Juno-6; it would become her first top 10 hit on the Billboard charts. It was a synth for the overground, the underground, and everything in between.
Juno-60
The Juno-6 was released at a turbulent time, in which standards regarding preset memory and interconnectivity were still solidifying—as such, it had no internal memory and little potential for interconnection with other instruments. Later iterations remedied that. Just a few months after its release, Roland put out the Juno-60, which would go on to become even more famous. The Juno-60 built on the Juno-6's shortcomings by adding 56 patches of memory storage. Users could also plug in an external sequencer, the JSQ-60, which could record in real-time or step record and had up to 2,000-note capacity—a notable accomplishment for the time, built around Roland's proprietary Digital Control Bus (DCB) protocol.
Before MIDI, Roland's DCB protocol served as a means of providing digital communication between their products. However, Roland only produced a few DCB-capable products before MIDI took over—the Jupiter-8 and Juno-60 are the most notable products of this period.
Aside from the increased patch memory and DCB capability, the Juno-60 had a similar sound engine and feature set as its predecessor, and was in production for a relatively short period of time. Among the Juno-60's famous uses are A-Ha's 1985 smash hit "Take On Me," which used a Juno-60 layered with a Yamaha DX7.
Juno-106
In 1984, Roland discontinued the Juno-6 and Juno-60, and came out with the Juno-106. The Juno-106 was a notable advancement, increasing patch storage to an impressive 128 patches. It also included MIDI for the first time in the series, over time making it a far more useful workhorse in increasingly MIDI-reliant music production environments.
With six voices and one DCO per voice, it employed the same chorus as its siblings to thicken its sound. Because the oscillators were digitally controlled, the Juno-106 stayed in tune while still producing a warm sound. It also included the same non-resonant high pass and resonant low pass filter as the Juno-6 and Juno-60.
Because it was so easily programmable with a rich analog sound, users flocked to the Juno-106. It had the ability to create grooving bass lines, piercing leads, and evocative filter sweeps. But what people loved about the Juno-106 were its pads, which quickly became part of the sound of then-emergent house music. One notable example is Chicago house pioneer Mr. Fingers' "Can You Feel It." Like its relatives, the Juno-106 was simple—and that's what made it magic.
Roland Juno Legacy
By the time Roland discontinued the Juno-106, it had reportedly produced a combined 116,000 synths across the three-model Juno range. This meant Junos were widely available and affordable, bringing synthesizers to a larger market. Today, prices for Juno family synths range widely, but are by no means cheap. Luckily, though, vintage synth enthusiasts have gone through great lengths to reproduce the behavior of these iconic instruments in several different forms—ranging from full software emulations to modular and pedal-format incarnations of various parts of these synths' internal architectures.
Chorus section on the Juno-106
Soft synth versions are, of course, far more affordable than the typical vintage Juno. The Juno-60 has been reproduced in the TAL-U-NO-LX software, which can be controlled by the Soundforce SFC-60 Juno Software Controller. IK Multimedia also made the Syntronik J-60, a software emulation of the Juno-60. Roland's subscription service, Roland Cloud, also offers a Juno-106 recreation.
In 2019, Juno updated the legendary Juno into the JU-06A, which combines the Juno-60 and Juno-106 into a modern, portable form factor. Inside are the beloved Juno sounds, combined with new add-ons like a modernized arpeggiator and chord functionality which can employ 16 different chord formations. There's also a mode option to switch between the filters of the Juno-60 and Juno-106. It even comes with batteries and a built-in speaker, ready with MIDI, USB, and external clock input, which makes it sync very easily with other hardware.
The Roland Jupiter-X and Jupiter-Xm also employ Roland's latest sound engine (the Zen-Core engine) to recreate the sounds and behaviors of several different vintage synthesizers, including the Juno-106. So if you're looking for a thorough and well-considered recreation of this classic instrument, Roland themselves have provided a brand new (albeit digital) answer.
In Eurorack, the Soundforce DCO offers an oscillator option for Juno enthusiasts, reproducing classic DCO-based saw, pulse, suboscillator, and noise sound sources with an integrated mixer and plenty of modulation options.
Juno-Inspired Gear

Roland's Juno series instruments have a sound like nothing else—a huge, swirling mass of tone that, regardless of the panel settings, evokes feelings of a bygone era. The arpeggiator, undulating chorus tones, thick chords, and dark filtered plucks all feel like they have a home distinctly in the 1980s...and these synths often feel like they bring an inherent nostalgia with them. If you're looking for an instrument that instantly transports you to the past, a Juno might just be your ticket back to 1984.