One of the best things to come out of the 21st century synthesizer renaissance is the fresh approach to keyboard synthesizers designs. Drawing from over 50 years of analog designs and incorporating cutting edge digital technology means that today's polysynths are leaps and bounds ahead of what was being made even just 15-20 years ago. In our eyes, one of the best examples of an instrument that respects both ideologies is Novation's Summit.
Though it has been around for a few years now, both the Summit and its keyboard-less counterpart Peak are fresh off a new firmware update from a few months back, and we're taking the opportunity to shine a bit of light on them again. We've also invited our friend Rachel Eckroth to our studio to share some sounds and talk a bit about her favorite Summit features. So while you're getting lost in the sonic sauce of the Summit's lush character, read on through this article to get some insight on this mountainous synthesizer.
Novation Synth History
Though they've become known for their extensive array of MIDI controllers, from the Launchpad to the SL, Novation has also cultivated a rich legacy in synthesizer design. One of the earliest Novation products was the original Bass Station, which in its various forms has been used by artists ranging from Radiohead to Aphex Twin. The Bass Station was also Novation's first product designed in collaboration with Chris Huggett, who is perhaps best known for designing the EDP Wasp. Eventually, Hugget became an official member of the Novation family and played a pivotal design role in several of their products over the years, including the Supernova and Bass Station II.
Perhaps Hugget's crowning achievement in synthesizer design at Novation is the Peak and Summit—powerful hybrid synthesizers combining the best parts of analog and digital designs. The Peak came first in 2017, debuting a unique concept by Hugget called New Oxford Oscillators, which combines traditional waveforms and wavetable synthesis. Because the Peak (and Summit) rely upon an FPGA rather than traditional DSP cores, the internal sample rate frequency operates way higher than on most other synthesizers, and this translates to increased clarity, precision, and flexibility in not only the oscillators, but in all digital components of the instrument as well.
But with all that Peak has going for it on the digital side, synth history has established that our mortal human ears love rich filters and warm saturation in the analog realm. Peak plays both sides though, and uses analog circuitry for its multi-mode filter, VCAs, and distortion sections. The filter itself is a super-charged version of the design found in the Bass Station II, tweaked and extended for better performance in the context of a polysynth. As for the distortion, there's quite a generous amount on tap to crunch up any sound, with totally separate and independent sections before and after the filter, as well as a master distortion.
Rounding out the Peak package is a collection of stellar digital effects—also powered by the FPGA—and performance features like an arpeggiator and Novation's Animate feature. In particular, the arpeggiator is perhaps one of the most powerful to be found on any synthesizer, boasting phenomenal note range, transposition options, and even supporting chord modes. On the other hand, Animate is a straightforward way to apply two different performance macros to a patch, momentarily applying some change to the sound as defined in the modulation matrix.
Peak's complete synthesis engine and compact desktop form factor means it's a great companion to existing controllers, grooveboxes, and MIDI sequencers in your studio. But for some, the best way to interface with a polysynth is through a piano-style keyboard, and so Peak works marvelously in that context as well. Though given the fact that Novation is a notable maker of keyboard MIDI controllers, it was only a matter of time before a key-laden version of the Peak was revealed.
Two Peaks are Better than One: Summit
With the release of the Summit, Novation addressed a few different angles to the Peak's design, while also seriously extending its capabilities as a synthesizer. Likely the most obvious of these changes is the inclusion of a keyboard—but there's more to the story than simply including built-in keys.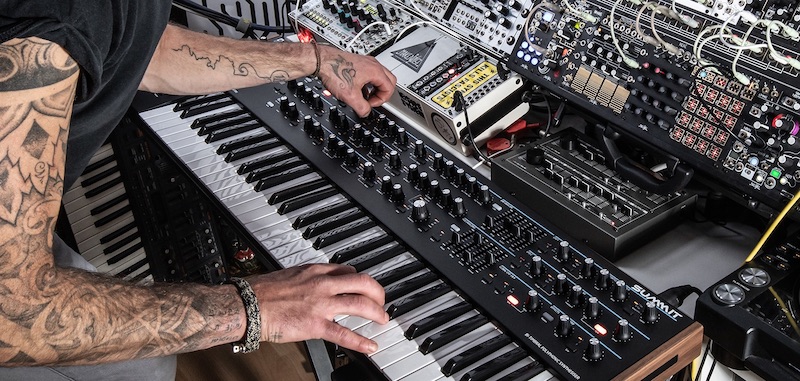 Summit's polyphony has not only been increased from eight to 16 voices, but it also supports bi-timbral operation—either through layering two patches at once or defining separate split zones on the keyboard. This effectively means that Summit is like having two Peaks at the same time, but through a unified interface the experience feels greater than the sum of its parts. Another option is the dual mode, which toggles back and forth between two different patches. As Rachel demonstrates in the video above, this is the mode of choice when setting up a drone or held arpeggio on one patch, then playing along on the other.
Both the Peak and Summit saw a substantial upgrade earlier this year, with the release of the 2.0 firmware. A number of new features are added, such as new effects and modulation routing options, but perhaps the coolest thing is the new Stereo Spread modes, which offer new ways to apply panning and spatialization to each voice. Of these, one that's particular interesting to us is the NoteVal mode, where different notes across the keyboard are given a specific pan position—a fun way to impart stereo imaging to arpeggios and sequences.
One of the other neat features added to this firmware is the ability to extend the maximum delay time, at the expense of some fidelity in more extreme modes. Of course, we mentioned above that the delay operates on the FPGA with the oscillators and other digital elements, and by default runs at a really high sampling rate. This means that you're able to divide the delay time by two or three times before any effect on the sound will be audible—that said, we're suckers for nice lo-fi delays, and you can definitely reach that territory with the new firmware.
The Eight-Thousander of Synthesizers
We recognize that there are a lot of keyboard synths out there these days, each boasting their own special features and individual things that make each unique. But if we boil things down, we can easily say that Summit is the perfect choice for someone in need of bread and butter synthesis sounds but also appreciates the ability to stretch and explore new sonic territories. In short, Summit is a clever take on the traditional keyboard polysynth that feels both familiar and yet offers enough flexibility to shape and sculpt sounds in ways not easily achieved on other instruments.