We recently had the honor of hosting LA-based musicians and general creative duo Shuwen Zhao and Brian Griffith, who create and perform together as Squash and Biscuit. Squash & Biscuit's creative output has a fairly broad range—but it's fair to say that they take experimental approaches to sound creation, often creating (in their own words) "musical atmospheres for moving images." And that's exactly what they came to talk to us about: using equipment designed for electronic music-making in order to do peculiar, quirky, evocative sound design for animation.
While we find that corner of their work endlessly fascinating, we were also aware that they had just recently published their first album Lavender Eggplant, out now on Casa Berenice Recordings. As such, we wanted to take some time to shed light on the creation of this spectacular record, and how Squash & Biscuit formed altogether.
Be sure to visit their website and Instagram account for more information about what they do—and read on for an insight into their history, creative practice, and the making of Lavender Eggplant.
Background: Squash & Biscuit
Perfect Circuit: Hey Brian, and Shuwen. Let's start with your background. What is Squash & Biscuit, and how did you two meet?
Brian and Shuwen : Squash and Biscuit
Shuwen: I'm the Squash and he is the Biscuit. This name came from one of our daily chats. When we discussed different pronunciations for Chinese and English words we realized 瓜和饼干 (guā hé bǐng gān) also has similar silly vibe as the English version, so we thought it's a cute name.
Brian: We met in 2019 while studying at CalArts in their Experimental Sound Practices graduate program. We started as just classmates, but as the pandemic hit and we moved our program online it actually became easier to stay in contact, so we would chat over Zoom messages during class, then over text. We then started dating and, both being musicians, started to play music together—we found our styles complimentary but different and it's also just fun. Our ambitions are also the same and so, aside from performing and recording, we also compose for film and animation, as well as do sound design. Squash & Biscuit is the name of our group, but also our creative studio.
PC: How are your individual roles distributed within the project?
Brian: I would say it's pretty collaborative—we start with an idea or sound that we want to explore and try to construct a series of sound spaces to play with. We don't really distribute roles consciously.
Shuwen: Sometimes we have different opinions, it's nice we both always exchange ideas and listen to each other.
PC: What is your creative workflow like? How much of it is composition, and how much of it is improvisation?
Brian: For our live performances it is structured improvisations—I mentioned "Sound Spaces" before and that is kind of what we construct, whether it's a series of instruments or patches we do generally try to have a few waypoints along the patch, but the journey is always a little different.
Shuwen: Brian also takes more technical work that helps our workflow pretty smoothly. For this video we just went with raw improvisation.
Discussing Lavender Eggplant and Live Performance
PC: Was there a particular source of inspiration or a preceding concept for Lavender Eggplant?
Album cover for new release Lavender Eggplant (album art by Chusu Kim)
Squash & Biscuit: The title refers to colors and, while they are similar, if you put them together we tend to focus on the differences rather than what makes them the same. We would even say that the difference isn't "black and white" but rather, just a shade of gray—this is what our music is kind of like, too. It exists between traditional "music" and just the environment. This idea can hopefully bring comfort to people who need it, those who are drifting, and it can be a tether back to reality.
PC: Voice and language seem to be a recurring theme in your work—from bi-lingual titles to abstracted vocal samples. Is voice another instrument for you or is it something entirely different? Does language serve a particular purpose in your work?
Brian: Neither of us are trained voice artists, but we find the idiosyncrasies of both English and Chinese sounds to be fascinating. We also see the sharing of language as an important part of our relationship, deepening a connection with each other and within ourselves.
Shuwen: Yes, language is important because for us it is tied to our mother cultures and is personal, but also is used to convey information. It's an interesting balance of function and beauty.
PC: Let's also talk about the rest of your instrumentation—acoustic and electronic instruments, samplers, and sound processors. Can you walk us through your setup? Which instruments/tools are your favorites?
S&B: So far what we've tried to do is get away from our respective instruments (bass and piano) and focus on sound manipulation with unconventional techniques. For the album we used a good amount of granular synth processing using the Glut script for a Monome Norns Shield with a Grid, an iPad app called Borderlands, and an iPhone app called iDensity. We also used a Double Knot from Lorre-Mill, PO-33 KO for rhythmic weirdness. A lot of the recorded material was taken from live stream performances we did in 2020 and 2021 where we took the fact that we're in a studio as an opportunity to work with sensitive microphones, which you normally can't use in a venue very well. The Electro-Harmonix 22500 looper has a handy XLR input with phantom power, so there are several tracks where we used found objects, close-mic'd them, and looped.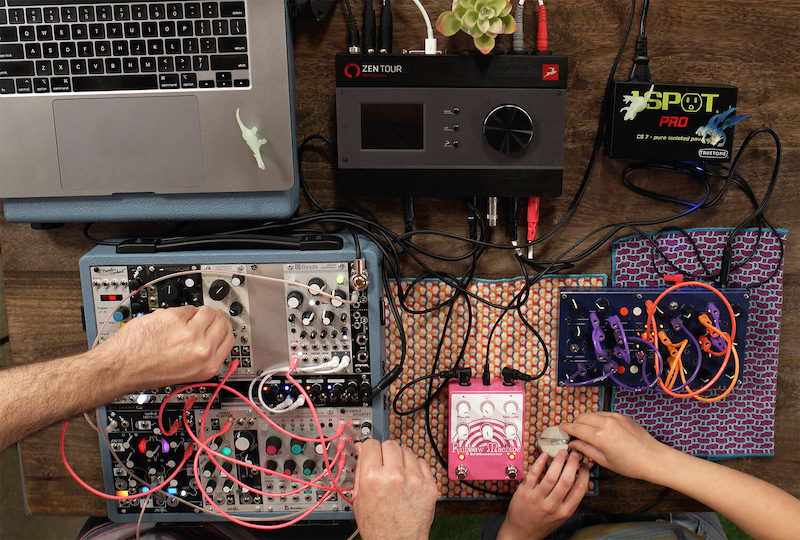 For this video, however, we used a small modular system to easily add audio manipulation thanks to the Morphagene and used a Beads for more pitched chaos. We also used a contact mic into a Rainbow Machine for added weirdness.
PC: Another significant layer of Lavender Eggplant comprises various environmental sounds, which combined with other synthetic sounds evoke a feeling of some alien landscape. What role do field recordings have for you as a compositional tool?
S&B: Field recordings help ground the music in reality and fill musical pauses with the sound mimicking daily life. If you pause music on a stereo, there is always going to be some sort of other environment sound. This also helps to create a sense of space, placing the music in an environment so it feels more like a living creature, or memory.
PC: What was your favorite part while working on Lavender Eggplant?
S&B: We had several different recording sessions over the course of a couple years and listening back to material after a few months was very satisfying because it gives you time to rest your ears and hear it fresh. Listening back also helped us solidify our creative viewpoint and has aided in further exploration of sound.
PC: What was the most challenging aspect of working on this record?
S&B: Listening back through everything and finding the best parts and getting the right feel for the edit. Like any type of music, it takes a bit of time, particularly because you need to take breaks to hear the music as a whole without focusing on too specific of an area. We also consciously made the choice to keep all the tracks shorter which takes a lot more careful listening to find a juicy flow. We wanted to have a cohesive journey and since each session was so long it took a while to get that.
PC: What does the near future for Squash & Biscuit look like? Any plans you would like to share?
S&B: We're going to continue to promote the album, but we also have been working on three animations doing sound design, music, or both, so those should be out soon. We are going to start working on a short dance composition that will premiere in June at LA Historic Park, and other than that, just hustling for work. Oh, we are also working on a lighthearted Dungeon Synth series of tracks for pleasure.