The Los Angeles synthesizer manufacturer Noise Engineering could easily win the title for the most prolific brand in Eurorack. When other companies make an announcement for one new module, NE showcases four. And if you think that such speed and volume would come at the cost of compromised quality, you couldn't be further from the truth. Noise Engineering modules are incredibly well-designed and put together, which translates to them being super stable and reliable.
In our recent Perfect Circuit Chat livestream, our hosts BBoy Tech and Trovarsi got together with the company in its entirety (Stephen McCaul, Kris Kaiser, Markus Cancilla and Ankoor Apte) to talk about their latest new module announcement, as well as a few more planned future releases. Get ready to work on your Latin.
Vice Virga
Traditionally, Perfect Circuit Chats start with a short performance, and in this case it was Marcus jamming with the new module—Vice Virga, a sequential switch matrix with a distinctly Noise Engineering flavor. This device has been several years in the making, constantly staying just out of sight as NE released a series of wall-shattering sound sources, distortions, and other useful utility modules...but finally, it is ready for the public.
The most singular aspect that sets Vice Virga apart from the rest of sequential switches in Eurorack is the splitability of I/O, making it possible to divide the matrix into groups of four 2x2, two 4x4, or one 8x8. The module also offers a few different options for switching such as using Trigger/Gate and Control Voltage signals, as well as manually using the "Advance" button. Furthermore, there are three modes for direction, which add a couple of internal stochastic variations to the standard forward switching. To top that off, Vice Virga is as useful for dynamic rerouting of control voltage signals as it is for audio, which effectively doubles the usefulness of the module in any system. Use it to set up multiple audio processing chains, as the hub of a feedback network, or as a form of CV patch memory—the choice is yours.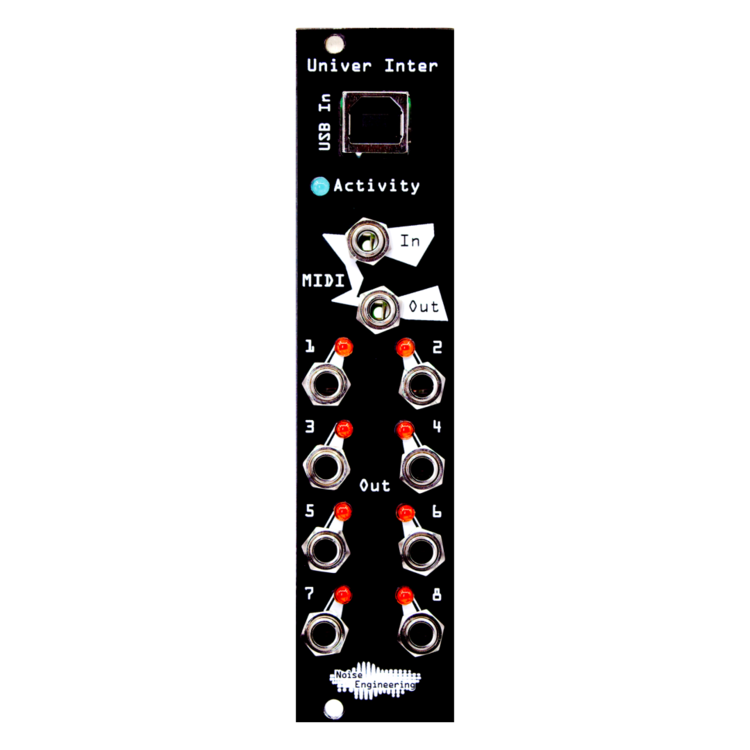 Univer Inter
At the most basic level, Univer Inter is a MIDI-to-CV utility module...and it is yet another example of Noise Engineering approaching common functionality from a radically different angle. The MIDI is routed to the module conveniently either via a USB-B connector or TRS jack, and also sent out via the latter.
There are eight outputs designed to translate MIDI data into control voltage signals, but what makes this module unique is that all of them are completely user-programmable via a custom web application. This means that it is up to you whether the particular outputs are set to transmit pitch, velocity, aftertouch, clock, MMC messages or anything else.
Several UIs can be chained together to facilitate swarms of polyphony or extensive modulation control. This set of features makes Univer Inter perhaps one of the most easily customizable and personal MIDI-to-CV converters on the market, which we are sure to see in more and more modular rigs once it is officially released.
Virt Iter
Virt Iter is a stereo oscillator packed in a space-saving 6HP, but there is more to it than meets the eye. The module represents a new direction in Noise Engineering's design approach. Rather than being simply an oscillator, Virt Iter is what the company calls an oscillator platform, meaning that it is a host for multiple algorithms that can be easily switched to completely alter the sound of the module. Upon its release, VI will come with three algorithms, each allowing for independent phase modulation of left and right channels, and more algorithms are planned to be added in future.
Desmodus Versio
Despite such a diverse range of modules in the Noise Engineering's line, there is plenty of open space in their lineup to fill with effects modules like reverbs, delays, choruses, phasers, etc. Desmodus Versio is a firm step from the brand to change that once and for all.
Just like their upcoming stereo oscillator, Desmodus Versio is a DSP platform which will allow users to easily switch between firmwares and effects. The initial firmware installed will be Noise Engineering's long-awaited take on the reverb effect, which will offer deep modulation capabilities with seven voltage controllable parameters and two modes, allowing users to seamlessly sway between spacious reverbs, long delays, and everything in between.
Stephen also mentioned in the chat that they are working out ways of supporting all kinds of user models, so that if someone wants to write their own DSP code for the platform, they will have an option to do so, and those who just want a single hardware reverb unit will also have a specifically catered solution for their needs.
Last, but not least, Noise Engineering will contribute a portion of the sales form Desmodus Versio to Bat Conservation International, which is amazing. When was the last time that you turned a knob on a synthesizer, immersed yourself in a lush (or not) sonic texture, and simultaneously helped protect important animal species and their environment? Perhaps only with NE's other module, Manis Iteritas, sales of which are partly directed to conservation of pangolins.
While we are sure that these announced modules are just a tip of the iceberg of what NE crew is working on, it is more than enough for us to salivate over. And being familiar with the brand's other products, there is no doubt that when we actually get our hands on those units, we will still be pleasantly surprised and get more from these modules than we ever expected. Stay tuned.