Given the peculiarity of the year at hand, Bandcamp has continued the new tradition of "Bandcamp Friday," in which they waive their revenue share in favor of giving independent artists the full benefit of their own sales. As such, we've taken a close look at some of our favorite releases from the last year or so, and are excited to share this list of a few of our favorite recent albums. Take some time to check these out and dig through Bandcamp today—you just might find something you love, or something that offers you new inspiration.
Moor Mother : Clepsydra
Philadelphia-based activist, artist, and poet Camae Ayewa has long been using sound as a vital means of expressing her work. Delivering engaging performances and immersive installations under the pseudonym Moor Mother, Ayewa is often identified with the current aesthetic of Afrofuturism, and puts generous energy into utilizing sound as a way to create community and express her perspective as a Black artist within modern society.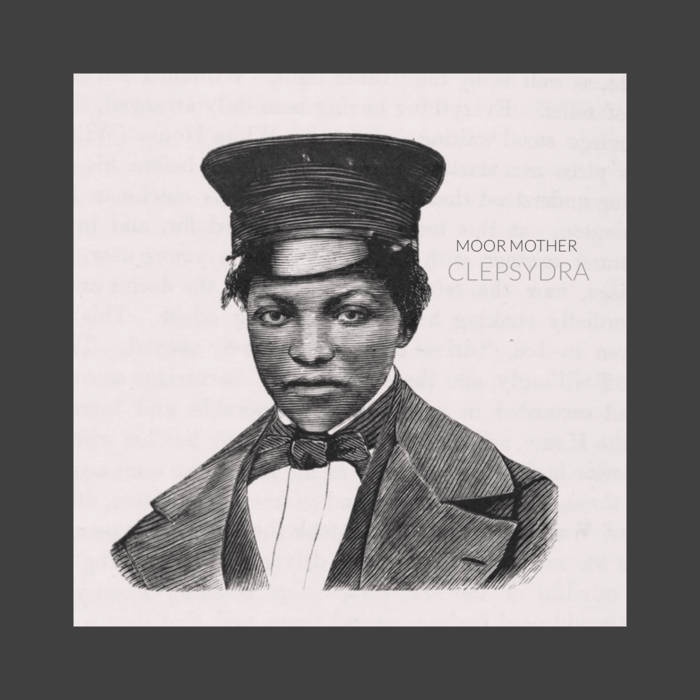 Moor Mother's May release titled Clepsydra is both an artistic statement of its own accord, and a vessel in which other creative minds may venture out and explore new ideas. Stated on the Bandcamp page for this release, Ayewa calls this "A collection of sounds for writers...and creators experiencing blockages," and subsequently offers instructions for how to prepare yourself to listen to these tracks and facilitate your mind's ability to wander freely. This certainly isn't a hard requirement for enjoying this compilation of soundscapes and experimental arrangements of sound, as you only need "a place to write if you are moved to" do so.
Sonically, Clepsydra itself is reminiscent of a wandering mind, visiting a wide range of places without dwelling for too long. Field recordings, samples of spoken word pieces, and incredibly varied musical excerpts are layered over and around each other, and flow in and out of focus in a stream of consciousness fashion. Take a track like "LETTERS FROM EARTH", which features samples of Indian instruments like tablas and sitars juxtaposed with fast-paced jazz music, while layering multiple interwoven spoken word excerpts throughout the piece. Not every piece is that dense or frantic though, with one like "SAINTS OR SORCERORS" primarily stacking sparse piano excerpts with slowly meandering flutes and vocals on top. It's clear that the sounds heard on Clepsydra come from a number of sources, but everything still feels unified by the production, itself playing into the album's concept as each sound feels like a hazy, distant memory.
Clepsydra is a gift from one artist to another, and one that recognizes that this year continues to have a profound impact on many artists' ability to foster creativity. I find these tracks make an excellent companion for both stimulating the mind while forming ideas for my own artistic practices, as well as offering a sonic medium to unpack thoughts and feelings at the end of the day.
clipping. : Visions of Bodies Being Burned
LA hip hop trio clipping. returns with a follow-up album to their 2019 There Existed an Addiction to Blood with Visions of Bodies Being Burned. This horrorcore album retains the tension and brooding atmosphere of the previous record but explores new avenues of the crossover between horror, hip hop, and noise music. Comprised of Tony and Grammy award-winning rapper Daveed Diggs and producers Jonathan Snipes and William Hutson, clipping. has been a mainstay of the experimental rap scene since its inception in 2009 as a remix project.
After being nominated for a Hugo award for the song "The Deep" off their Sci-fi inspired 2016 release Splendor and Misery, the group turned their eyes to horror. The genre is close to their heart, Jonathan Snipes's side project Nilbog pays tribute to classic horror scores from the likes of John Carpenter and Ennio Morricone. In addition, his work as a film and television composer has encompassed genres from horror to sitcoms. Hutson is also a devotee of the genre, which informs his work both as a musician and a writer. Daveed Diggs shows off his versatility both as an actor and rapper, adapting his style and delivery to match the source material. According to the band, if clipping. was a movie, each member has a specific role. Daveed is the star and screenwriter, and one of the clear sources of clipping's virtuosity. Bill Hutson is the director, wrote the story, and is the reason for the band's high concept offerings. Jonathan Snipes is the producer and the main glue that ties all the pieces together in a cohesive package.
Visions's 16 short stories imagined as rap songs explore everything from Lovecraftian cosmic horrors to slasher films. Diggs' delivery is always on point, perfectly fitting into the pocket of the beat, even if that beat is simply washes of noise. The album's instrumentals collage modular synth textures, thumping basslines, powerful noise bursts, and esoteric drum lines that break out of traditional hip hop expectations. Always known for their unconventional production style, the group used everything from EVP recordings of ghosts and hyperkinetic breakbeats in "Pain Everyday" to binaural beats to simulate the psychedelic terror of "Enlacing." Confrontationally reinterpreting horror through the lens of anti-racist and anticolonial viewpoint, the album examines the world's material conditions that inform the genre.
Wylie Cable : shimmer, then disappear
Dome of Doom's founder Wylie Cable presents us with a sonic smorgasbord of new material to chew on in Shimmer, Then Disappear. A collection of early-quarantine sessions fueled by mounting tensions and social unrest, this album sees Wylie fluidly expressing a wide array of sonic palettes both familiar and unique, blending themselves effortlessly into a new musical voice that is entirely his own, as well as collaborating with several long-time Dome of Doom label mates.
Tracks "Hot Potato" and "Short Game vs. Long Game" deliver powerful junglist rhythms over skittering glitched percussion and saturated basslines tailor-made for late night warehouses, while others like "Travel Light," "Supernumerary," and "Carry Cash" show a more subdued and calmer interpretation of those same tropes. Sharp otherworldly textures dance in a stunning stereo field seemingly moving forward and backward in time on stand-out tracks "Contacting People from Your Past" and "How to Disappear." Reading along the track titles shows the album's thematic content, a miniature story, or small suggestions on how to disconnect from your material life, pulling possible inspiration by Doug Richmond's "How to Disappear Completely And Never Be Found," a seminal volume on how to fade into the folds of society.
Shimmer, Then Disappear is dense with crystalline pads and harsh digital sample manipulation, clouds of noise and tonal material wash and wave while morphing into melodic hooks before disappearing behind complex effect manipulation. Behind almost every track is a thunderous percussion kit familiar to fans of Dome of Dooms take on West Coast hip hop styles, as well as classic breaks, layered hardcore kicks, all blended together to form the pulsing backbone of this album. Wylie makes impressive use of an Octave Kitten and the unique OB-3 Squared, whose unmistakable tones can be heard throughout the record, as well as a host of newer Roland gear on loan from Daedalus, a friend and collaborator of Wylie's. The completed package is the artists most coherent and concise offering to date, and an excellent introduction to Dome of Doom's unique and varied style, available on cassette, as well as digital download.
SUMAC : May You Be Held
Since their debut release The Deal (2015), international power trio SUMAC has been reinventing itself with each consecutive record. While generally categorized as metal, the music that Aaron Turner (ex-Isis, Old Man Gloom, Mamiffer), Brian Cook (Russian Circles, ex-These Arms Are Snakes, ex-Botch), and Nick Yacyshyn (Baptists) create goes far beyond the borders of the genre. Unconventional structures, lengthy forms, and a unique interweaving of composition and improvisation—all are signature elements of SUMAC's sound. One of the best parts of the band's approach is that it feels like the music is flowing without succumbing to compromises: heavy parts are some of the heaviest you'll ever hear, drones are deep and mesmerizing, moments of silence are there where they need to be, and walls of screeching noise can suddenly creep-in and overtake your attention space at any moment.
May You Be Held is the fourth full-length studio album from SUMAC, and it is undoubtedly a great follow up to the thunderous Love In Shadow, as well as two subsequent collaboration releases with the legendary Keiji Haino. The album possesses a certain spiritual undertone to it, which feels present both in Turner's lyrics and in the overall flow of music on the record. The opener "A Prayer For Your Path" is a spectral interplay between Yacyshyn's bowed vibraphone, and Turner's and Cook's feedback swells. The eponymous "May You Be Held" is a close to twenty-minute opus with labyrinth-like structure and ultimately hope-evoking lyrics. Another one of the album's lengthier pieces "Consumed" takes a similar approach—it starts with a temperamental drone that gradually transforms into a gut shattering groove occasionally intercepted by subtler instrumental variations, and eventually dissolves back into the decaying feedback only to return a moment later stronger, faster, heavier, and louder. The final track "Laughter and Silence" provides a soothing conclusion to the record. Here, the wandering guitar is primarily accompanied by the organ played by Mamiffer's Faith Coloccia, and only occasionally accented by low bass tones, and sporadic cymbal splashes.
The experience of listening to May You Be Held feels closer to witnessing or perhaps even participating in a ritual, and not the one with sacrifices and worship of malign entities, but rather one focused on liberation and getting closer in touch with humanity. While the album was reportedly recorded in the span of the last three years, its release in the middle of the pandemic and political turmoil feels very timely, as its sound somehow perfectly captures the present state of the world. However, among the dissonant chords, growls, screams, and chaos the underlying message wisely encourages resilience, perseverance, and hope.
Shasta Cults : Album / EP Trilogy
Richard (Rick) Smith's name may not be familiar to all readers—but to those engrossed in the niche world of vintage Buchla and EMS instruments, he is a prominent and respected figure. An associate of Don Buchla and the party behind The Buchla Archives, Smith is the go-to expert on all things in the vintage Buchla universe, including Buchla's markedly rare hybrid instruments from the late 1970s and '80s—such as the Touché, 400, and 700.
Of course, given these instruments' rarity, it's very uncommon to hear music produced with them. Few recordings exist for any of these devices, leaving them with a deeper air of mystery than the more commonly-utilized 100 or 200 Series modular instruments. The stunning scarcity of music produced by these instruments has offered us only a limited perspective on what they could do: and thankfully, in 2019, Smith offered us some new perspective on each.
In a trio of releases late last year, Richard Smith's Shasta Cults moniker provided us deeper musical insight into these devices—but simultaneously offered a stunning, deeply beautiful set of meditative textures perfect for any lover of sound. The first release, Configurations, focuses on the Buchla 700. Previously featured in relatively few pieces of music (see Charles Cohen's masterful playing on Group Motion or Benge's initial explorations on Chimeror), Smith demonstrates the softer, textural side of the 700—demonstrating a depth of expression that I personally have never heard from this instrument.
The later releases EP (October) and the self-titled Shasta Cults provide similar explorations of the Buchla 400 and Touché, respectively. Each of these demonstrate a similar musical sensibility: while earlier releases with these instruments seem to focus on hyper-animated and sometimes bombastic textures, Smith's sensibilities find them taking on much more calm roles...revealing a distinct, deep, and peaceful world of sound inside each. While on paper it might seem like these releases could just be the technical work of an archivist/vintage synth collector, there's much more to them than that. The instruments are rare, sure, but what we hear on these releases isn't just a tech running museum pieces through their paces: instead, we hear a patient, calm, and frankly beautiful set of textural atmospheres well worth return visits.
From horror rap to sonic activism and meditations with rare vintage synthesizers, there's no shortage of amazing music out there. Take some time today to listen to independent artists—peruse through Bandcamp and you're sure to find some remarkable things that you've never heard before. Perhaps you still haven't heard your favorite artist, and perhaps there's some inspiration waiting for you.