The TR-707 is the first drum machine I ever owned, purchased years ago from a friend of a friend in South Brooklyn. I remember holding it close and being terrified of breaking it as I took the subway home. It seemed so precious: my first real bit of gear.
To this day, the TR-707 has remained a key part of mine and many other producers' studios. Though overshadowed by its more famous siblings in the Rhythm Composer family, the TR-707 is still a vital player in dance music.
Released by Roland in 1985, the all-digital TR-707 had a huge impact on early Chicago house, and acid house in particular. Its snare, claps, and hi-hats helped shape house's grooving sound, while its toms featured a lovely round decay that got any body rocking.
The TR-707 cowbell is its most recognizable facet, still ringing out today across many a track and sample pack.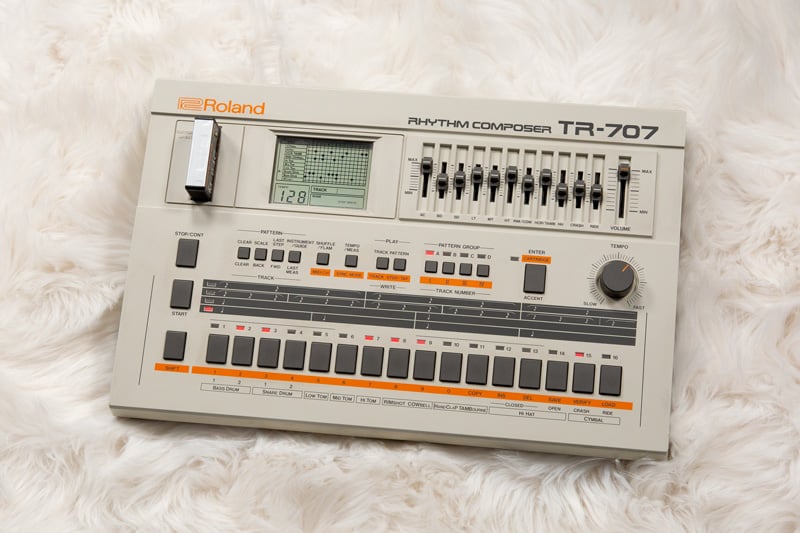 Each drum has individual volume sliders and output jacks for each instrument group, which means you can multitrack every single drum into a mixer with ease. Okay, you can't edit the drum sounds beyond that, but when the hi-hat sounds this good, what is there to change?
With a versatile step sequencing approach common for the Rhythm Composer series, it's also very intuitive and easy to program. The TR-707 remains far more affordable than the ubiquitous TR-808 or punchy TR-909, making it a great starter drum machine. Today, those looking to get their hands on a TR-707 need look no further than the Roland TR-8S, which comes loaded with every sound from Roland's sought-after drum machine series, including the TR-707.
From the iconic '80s acid house of Mr Fingers and Marshall Jefferson to the current experimentations of French trio J-Zbel and Canadian hardware duo Minimal Violence, the TR-707 is still going strong.
In celebration of 707 day, here's a playlist of tracks featuring the underrated Roland machine.