The time is upon us again! It's Bandcamp Friday, and Bandcamp is waiving its revenue share of all sales today in favor of giving profits directly to the artists and labels whose music you buy. So whether you're into experimental music, dance music, ambient, indie, or anything else—head over to Bandcamp today to support independent labels and musicians. That said...here are a few of our recent favorite tunes to get you started.
Brian's Pick: ulla's foam
Ulla Strauss, going by Ulla, has been a force in contemporary ambient music with her subtle, satisfying loops and inviting sonic terrain. For me, Big Room and LOG ET3RNAL, a collaboration with perila, are the two of my favorites, however, with the latest release, foam, out on 3XL, my personal favorites will have to be reexamined. Unlike the previous two, and indeed all her previous work, foam feels more precise: the samples are treated with less reverb, splicing artifacts are left in, and the patchwork nature of each composition is highlighted and celebrated.
Opening the album is "song" giving us a taste of what's to come with characteristic hypnotic phrases of samples presented in an entirely satisfying way, but when "gloss," the second track, hits, this is when the true framework of foam is set. Vocal samples are a main textural motif throughout and when combined with the scansion Ulla employs the result is an inviting journey that will get your head bopping. This is most profound on the track "creepy girl," which uses a minimal, warm-kick-driven, brushes-aplenty beat that glues the track together, along with a looping piano or guitar (or both) in reverse to draw you in.
The first taste of foam I had was with the track "sad face" showing up on several regular radio shows I listen to, and it immediately grabbed me. A sparse vocal sample that uses pauses and silence with expertise laying the foundation for the tracks thereafter. Tracks like "blush," "for your love," and "11" echo this structure with expertly selected samples placed with care in time. Each track is brief and says what it needs to without lingering too long—you want more, and over the course of 14 tracks you are left satisfied, but somehow still want to come back for more. Many of the tracks have a certain catchiness that is reminiscent of pop or folk songs whose melodies weave their way into your heart and soul.
Ulla's foam is a great listen and a wonderful example of how careful listening and thoughtfulness can generate compositions that are open and captivating.
LINK: check out foam on Bandcamp!
Another from Brian: Kensho Nakamura's Electric Rust
Slovakian label, mappa, is a force in the experimental label game with exceptional curation and an ear for interesting sounds. With their release Electric Rust from Japanese artist Kensho Nakamura, mappa brings us the perfect headphone listen with crisp, clean, tiny sounds flickering back and forth in space, occasionally tied together with acoustic elements. Through 8 tracks, we are presented with a world that is close and dry, while being spacious and damp, leaving us with a complete view of this imaginary terrain.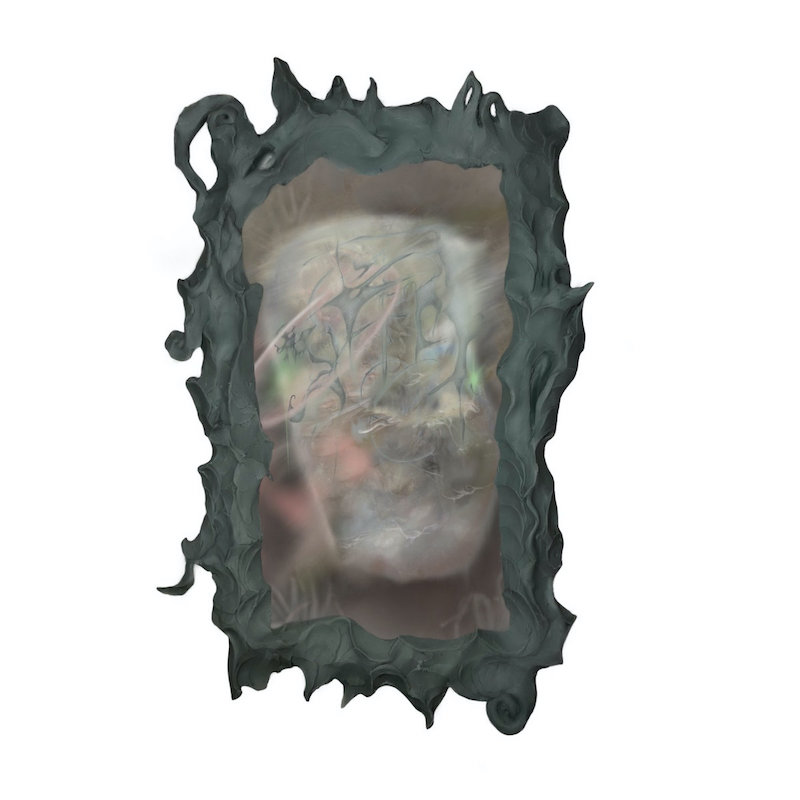 Our opening track, "wat air," is a great entry point to the universe with sporadic sounds that make expert use of silence and space to bring you into an early 3D render of an alternate liquid metal dimension. The short bursts of tinkling, fast-attack sounds continue throughout the album, with the longer pads becoming more prominent as we move through "feooh," "hrewd," and the opening track's counterpart "wet air." The title track is aptly in the center of the album, serving as a sort of glue and focal point for everything else. While it has the characteristic grains of sound, they tie into a lulling, softly moving melodic line.
The second half of the album starts with "unique faces," which is a great study in how to use spatial reasoning to place samples and instruments in a world that keeps staring at the passing world. We're greeted with longer tracks, as well, with the penultimate "sabiiro pathos" taking up the most temporal mass, but also hearkens back to the opening track but spaced out, still playing with pauses, but using more tonal textures. Closing the album, "bygone days" is more upbeat, optimistic, and celebratory while still leaving room to think.
Spending any time with this album is time spent well with a cohesive sense of completion, realms to inspire contemplation, and sounds that invigorate the imagination, Electric Rust is a slow lowering into a warm bath.
LINK: check out Electric Rust on Bandcamp!
Jacob's Pick: Paint and Blood by Luca Longobardi + Alex Kozobolis
Once again, I'm looking at a record that bridges the gap between physical acoustic instruments and electronic, synthesized elements. As someone who often exists in this space, I'm always a fan of tracking down new works in this realm.
A collaboration between Luca Longobardi and Alex Kozobolis, Paint and Blood combines effects-laden piano with synths and field recordings, resulting in a thoroughly dreamy and evocative work. The track titles correspond to a poem written by Kozobolis, and serve in establishing the mood and mental imagery of the music:
"Let us wander
and speak of the constellations
of red
we will find
between a coffee and the flooded tomb
of our most narrow dreams -
where we start again"
Across the seven tracks, piano and synthesizers trade between roles of leader and follower, foreground and background, or subject and texture. The opening track "Let us wander" is spacious and wandering—slow and sustained piano chords float on top of distant textures and muffled, spoken dialog. Another track, "Of red," begins with solitary piano before bubbling, reversed piano loops begin playing back and synths start to fade in. Piano arpeggios and sequences slowly give way to the synthetic elements, for which the piano then serves as an accompanying element by the end of the track.
The lines between organic and synthetic sounds are often blurred. In the track "Between a coffee and the flooded tomb," the piano is so masked by filtering, granular, and pitch-shifting effects that it feels something like a cyborg instrument—rooted in acoustic, physical space but sonically augmented well beyond the instrument's natural capabilities alone. But even just clever blending and layering of the two elements goes a long way, as heard in the middle of "And speak of the Constellations" and the ending in "Of our most narrow dreams" during the interplay of the sequenced synth and piano chords.
Throughout Paint and Blood, the sonic moods range from suspended, floating, and near-fantastical to mysterious, subtly anxious, and hints of darkness. For listeners of more ambient-stylings that enjoy sonic immersion to appreciate every element hitting their eardrums, Paint and Blood is well worth more than a few listens.
LINK: check out Paint and Blood on Bandcamp!
Eldar's Pick: Evergreen by Patrick Shiroishi
The Los Angeles-based multi-instrumentalist, composer, improviser, and intrepid collaborator Patrick Shiroishi is a true force of nature. This manifests not only in the sheer volume of the artist's output (go check out his personal Bandcamp page), but also in its diversity. Now, undoubtedly, one of the most distinctive features of Patrick's work is his virtuosic command of the alto saxophone, but there is plenty of evidence in his catalog that he can adapt his artistic vision to a variety of instruments. What is even more striking, is that record after record he demonstrates an uncommonly rare ability to skillfully swim across a range of musical genres without ever sacrificing his artistic essence. Free improvisation, jazz, noise, black metal, post-rock, ambient—the gamut is vast. The majority of Shiroishi's work is collaborative, but now and then Patrick presents a solo effort, and when this happens, it grants a deeper dive into his unique creative narrative. Evergreen, released on the renowned Touch label at the beginning of last month, is one such opportunity.
The core theme of Shiroishi's practice, at least in the last several years, is a personal investigation of Asian American history through the prism of his family tree. Evergreen precisely focuses on this subject, and Shiroishi expresses the complexity of the feelings it evokes in the course of four slow-paced and deeply emotive compositions, each one plus/minus ten minutes in length. Notably, the album features peculiar instrumentation. Here, Patrick constructs compositions with synthesizers, a clarinet, a tenor saxophone, his voice, and field recordings. Moreover, the album clearly emphasizes a carefully thought-out compositional approach over the raw spontaneity exhibited in many other albums from Shiroishi's rapidly growing catalog.
The name of the album is inspired by the Evergreen Cemetery in Los Angeles, where several generations of Shiroishi's family members are buried, and as such, the record's title symbolizes the artist's attempt to reconnect with his ancestors. The bedrock of the album's sound is a collection of field recordings made by Patrick as he was visiting the site, and their steadily tranquil character serves as an apt foundation for the layers of instrumental meditations added atop.
The album opens with "a place where sunflowers grow" where one such recording continues almost entirely uninterrupted for nearly a third of the piece before it starts to gradually fuse with lush organ-like synth pads and gentle vocal howls. "there is no moment in which they are not with me" continues with sanguine irregularly arpeggiating synth lines that unhurriedly build up before dissolving below a heartwarming sax solo. The third composition, "a trickle led to a quiet pool, where still black water reflected the night sky," similarly employs an exquisite milieu of synth pads and arpeggios, though the mood is a bit darker. The first several minutes somehow are surprisingly reminiscent of the more abstract and textural compositions from Burial, yet towards the end, the soundscape gets further submerged under the heavily discordant and distorted oscillations. The album's finale, "here comes a candle to light you to bed" begins with intertwining mournful clarinet lines that eventually turn into a soundtrack to the recording of a stranger sharing a personal account of how Roosevelt's Executive Order 9066 affected his own family, a story that echoes in many Japanese-American families. The album concludes with contrasting sounds of a thunderstorm and calm breathing, perhaps a signifier of one working through trauma and coming to peace with the burden of history.
One of the most remarkable things about Evergreen is that, despite the difficult nature of the subject matter that it explores, the record doesn't appear gloomy. If anything, the album's disposition is rather contemplative and benevolent. Shiroishi himself states in the liner notes: "Hoping that you listen to this music in one sitting and think about your ancestors as you do - we all come from somewhere, and there is not a moment when they are not with you."
LINK: check out Evergreen on Bandcamp!
Ryan's Pick: Peter Rehberg at GRM
at GRM is a retrospective release honoring the remarkable live performance work of electronic composer Peter Rehberg. Rehberg (1968–2021) famously was the founder and head of Editions Mego, formed after the label Mego folded in 2005—and later, he spearheaded the release of Recollection GRM, comprised of archival recordings from the Groupe de Recherches Musicales (GRM). This included music by Bernard Parmegiani, Beatrix Ferreyra, Pierre Schaeffer, Iannis Xenakis, and others.
So, clearly, Rehberg was a proponent of experimental electronic music, with close ties to organizations that have existed since the formal beginning of electronic music altogether—and with an aesthetic bent toward the exploration of the textural, timbral, and morphological aspects of electronic sound. But beyond his work championing music by others, he was a composer himself...and quite an interesting one.
at GRM is a posthumous release featuring two full-length performances by the artist, each originally created in association with the GRM. The first piece was performed at a concert in March of 2009—the first formal collaboration between Rehberg and GRM. The second recording, performed in March 2016, occurred after many of Rehberg's collaborations with the GRM were already underway.
In these pieces, you'll hear Rehberg's unique musical grammar strongly at work—and for those familiar with the aesthetics of early electronic music (especially those works created by GRM composers), you'll be pleased to hear a fresh, modern take on what one might consider to be "classical" timbral and structural tape music concepts. Schaeffer's morphological concepts are clearly at work, with constant juxtaposition of dissimilar sonic materials...consonant vs. dissonant, tonally pure vs. complex, unnoticeable onsets vs. brusque, abrupt changes in loudness and sonic color. You'll hear the patience of Bernard Parmegiani's gradually unfolding textures, and the high attention to detail you'd find in music by Ferreyra.
But, you'll hear all of these things accentuated through a much more modern lens: timbres are harsher. Textures fall apart into a constant din of crackling noise. Abrupt sounds suddenly appear with power and aggression as once-calm atmospheres gradually build to the point of blistering. And all of these juxtapositions unfold with a clear sense of patience, restraint, and intention. If you want to hear truly masterful performance of "abstract" electronic music in the style of classic tape music, I can't recommend this enough.
LINK: check out at GRM on Bandcamp!