Bandcamp Friday has come around once again! Today, Bandcamp is waiving its revenue share of all sales, sending profits directly to the artists and labels whose music you purchase. So no matter what you're into—experimental, dance, ambient, indie, whatever—head over to Bandcamp today to show your love independent labels and musicians. But if you need a starting point, here are a few of our recent favorite ways to rattle the airwaves.
Immersive Orchestra + Electronics: Tyondai Braxton's Telekinesis
Telekinesis is perhaps Tyondai Braxton's most ambitious work yet. Already well-known for his intersection/fusion of what might otherwise be considered distinct musical styles, Telekinesis seems to bring distinct aspects of his practice closer than ever before. Calling it a "large-scale" work might not paint a clear enough picture: it's a ~35-minute composition for an eighty-seven-piece ensemble of orchestral instruments, electric guitar, electronics, and chorus.
Like many, I first became aware of Braxton's work with the 2007 release of Mirrored by Battles, a band of which Braxton was a primary member at the time. Mirrored (and Battles's earlier works) are fascinating for their embrace of textures not unlike classic musical minimalism—procedural music full of repetition that re-contextualizes itself through use of gradually evolving processes. Polyrhythm/polymeter, mixed meter, and progressive embrace of electronic processing of typical "rock band" instruments came to define their sound: voice pitch shifted with Boss PS-5 Super Shifter, looped with Line 6 DL-4, angular yet succinct guitar lines...much of it sounded like it could've been straight from Steve Reich or Philip Glass, but realized with more contemporary rock instrumentation.
Braxton left Battles c. 2010, as his solo work came into greater focus. The release of 2009's Central Market showed another side of his compositional voice altogether. Comprised of short pieces for chamber ensemble, electric guitar, and electronics, we get a sense of the same musical sensibilities that guided Battles—but expanded in scale. We still get repeating, gradually evolving patterns spread out across a larger ensemble; we still get harmonic language that seems to favor collisions of open, stacked intervals; we still get an intense dynamic range. But we also get a deeper impression of Braxton's playfulness as a composer. While his work with Battles already gives you a sense that he's intentionally embracing the absurdity and tongue-in-cheek comedy of drastically processed voice, etc., Central Market puts this lightness directly in your face. The orchestration sounds at times like a mix of Copland, Gershwin, and Glass—with sudden interjections from large forces of kazoo, pitch-shifted voice, wood blocks, and peculiar electronic sounds.
2015's HIVE1 adapted concepts from a concert/installation work into a richly-varied collection of pieces for percussion and modular synthesizer, further deepening our concept of Braxton's embrace of sound simply for what it is. Live processing, interlocking rhythms, and amorphous textures of sometimes-extreme, sometimes-comical sounds maintain the playful spirit of his other works while showing his deepening relationship with electronics—both as a means of creating sound, but also as a means of creating spontaneous and/or evolving forms and structures in a way that might otherwise be impossible.
Braxton has released other shorter works in the meantime—but at least in terms of sheer scale of instrumental forces, 2022's Telekinesis is his most expansive work yet. Meticulously tracked instrument-section-by-instrument-section, it was recorded more like a pop album than a typical orchestral recording...allowing him to craft a remarkable fusion between the acoustic and electronic textures, giving them equal presence, and often manipulating their sense of depth...creating an orchestra that seems to expand, contract, and surround the listener. Check out "TK3_FloatingLake" (embedded above) for a great example of the way electronic and acoustic instruments combine, and the way the sense of space is manipulated in the recording. It's insane.
While Telekinesis certainly contains the minimalism-like transformations of motives, playful sound design, and exuberant energy in his other works, it overall has a darker atmosphere. There's a strong use of large tone clusters shifting from instrument to instrument; instrumental groups collide and exchange properties, creating gradually-transforming horizontal textures, more like Varèse or Grisey than Copland. Loosely inspired by manga masterwork Akira, in which a young boy gradually comes to terms with his unexpected and uncontrolled ability to control objects and energy with his mind, Telekinesis loosely grapples with the idea of the power of the mind. How can it be used for good? Can it be dangerous? What happens when power develops into hubris? What happens when extreme mental power goes out of control?
Even if you haven't been following Braxton's work, Telekinesis is well worth a listen. If you like dense orchestral music, electronic/"contemporary classical" fusion, or compelling sonic soundscapes, Telekinesis will prove to be a moving, if not ecstatic experience. Listen to it loud—it's the best 35 minutes I've spent in recent memory.
Link: check out Telekinesis on Bandcamp!
Dwell and Process: Our Friend the Sun's Let Me Out of History
Sometimes, you're just in a mood that calls for some slightly melancholy guitar lines paired with layers of effects, drones, and field recordings. I stumbled upon Let Me Out of History by Our Friend the Sun recently when I was in down in such feelings, and it was the perfect pairing for that moment.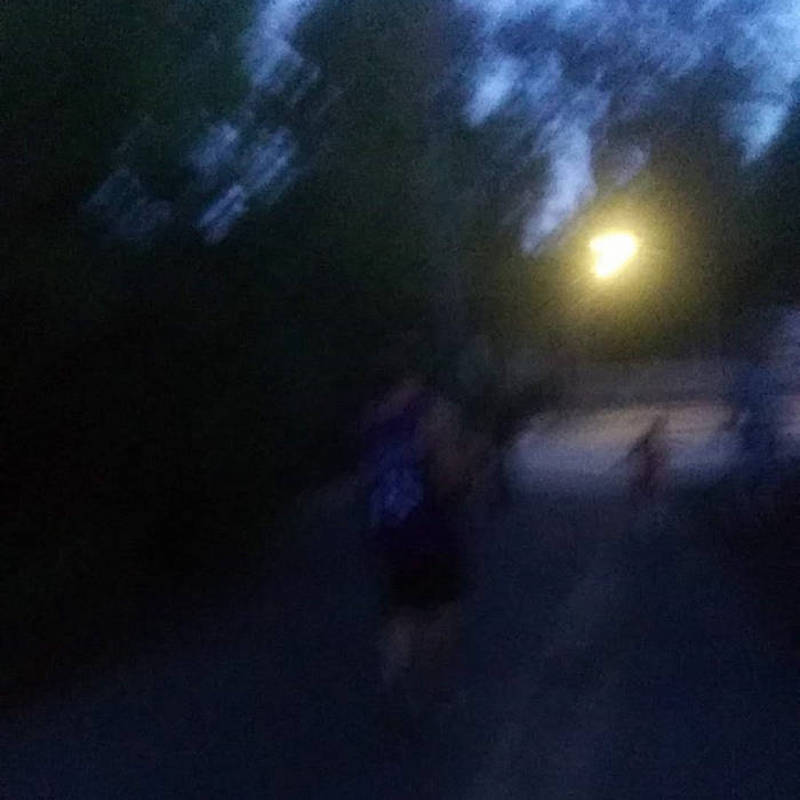 In the opening track "Good Morning Again," gentle solo guitar playing with building layers of loops establishes folk and songwriter influences. But the electronic elements don't reveal themselves until later in the album—murky field recordings and spoken dialog hint towards what's to come in the following track "Walking Home From a Bob Dylan Concert." But as soon as "I've Heard it In a Safe Place" begins, reversed guitar loops lay a bed for gentle flutters across the top, but subtly enough that you might miss them if you're not listening closely.
It's not all guitar on this record, though. "A Call Home" features shimmery layers of synthesizer loops, building grit as the track progresses. "I Give Up, Goodnight" features sustained swells, of guitar chords, on top of overdriven lower layers. We tend to attribute distortion to heavy guitars and drones or crushing drums, but this record absolutely serves as a reminder that saturation is an effective tool for nuance, too.
Let Me Out of History is a very digestible album, thanks to most of its tracks living in the comfortable time length range of two to three minutes. And this makes sense—the text on the Bandcamp page attributes this record as an exploration of "the events of the year 2020. It references both public events and personal struggles." As a year that was universally known for making everyone experience a range of complex feelings, most tracks are long enough for a brief moment of reflection before moving on to the next moment. But "Carry," the longest track on the record, stands out from the rest as a place where you can close your eyes and dwell on feelings.
We can all enjoy and appreciate complex music from time to time, but remember that music is one of the most effective vessels for channeling emotions. With that in mind, I recommend Let Me Out of History as some music to keep in mind for the next time you need to process some feelings or de-compress.
Link: check out Let Me Out of History on Bandcamp!
Psychedelic Journey: Li Jianhong, Wen Zhiyong, and Degn Boyu's Three Friends of Winter
Three Friends of Winter is a heady, psychedelic journey captured by three musicians in Beijing over the course of an evening. Sprawling almost two hours across a double CD set, Li Jianhong on guitar, Wen Zhiyong on trumpet, Gudi, and synthesizer, along with percussionist Deng Boyu showcase their versatility and listening skills. At times it feels like an intimate secret that you're clued-in on, while during other periods it's as though you're observing a maelstrom just off the coast.
Opening the album is "The Second Light Shining into the River Valley," which is the perfect introduction—ebbing and flowing with noisy psychedelia and soft expanses of longing. Directly after that is "The Passage," taking a more minimal approach to the sonic landscape, with sparse percussion and the 骨笛 (Chinese bone flute) front-and-center providing a sense of mystery and discovery.
It's hard to not write about each track because there is a huge sense of flow, as many manicured improvisation sessions feel like, and this collection feels incredibly fluid and interesting. You're going through different environments that reflect the skill of these musicians beyond their instrumental skill, but showcases the important aspect of musicianship: listening, thoughtful reaction, ego death. The penultimate track "The Silver Island (excerpt)" might be the most condensed track, despite being 32m, which goes through myriad forms that reprise themes previously heard.
This is a highly recommended album for those who are interested in a combination of acoustic and electronic elements, psychedelic free improvisation, and sounds that lean toward the dark and heavy.
Link: check out Three Friends of Winter on Bandcamp!
Get Lost: Madromi by DUP SYS
Part of Muzan Editions' Winter batch, Madromi from Osaka musicians DUP SYS is a gentle, synthy, field recording filled album that blends organic and synthesized textures beautifully. You could easily keep this on repeat and get lost in thought for a few minutes before going back to your errands, chores, or other tasks: it's the perfect soundtrack for doing things.
"Tropical Rainforest" is a track that stands out for its lovely use of samples combined with the instrumentation to create an atmosphere that is very forest-like, while being a unique take on how a rainforest could sound. At times energetic and at other times contemplative, we can see the differences a bit in how the beginning and ends of the release feel. Later tracks like "Big Sky" and "Early Morning, Lake Side" are slower and more introspective, while earlier tracks have more energy to them.
"Suiseki" is the opening, and it is one of these tracks that brings a lovely energy, providing a great entry point to the album. With tinkling blips, watery crinkles, and a gorgeous acoustic guitar that arrives mid-way through, this longest track moves through the space with an undulating cadence that breathes organically. Not content to stick with a single type of form or instrumentation, Madromi is luscious and majestic which presents a complete picture of a landscape that exists only in dreams.
Recommended for those who like gentle sounds and ambient work that is less drone-based and more exploratory. While it can be dense, this is a work that uses space and breath.
Link: check out Madromi on Bandcamp!
Eclectic Experimentalism: La Tène's Ecorcha​/​Taill​é​e
For a number of years now, the Genevese avant-folk outfit La Tène has been resonating as one of the most original voices in the current landscape of experimental music. The group was founded by Cyril Bondi (percussion), Alexis Degrenier (amplified hurdy-gurdy), and Laurent Pete aka D'incise (Indian harmonium, electronics), and the first two albums, Vouerca​/​Fahy (2016) and La Tardive/Issime (2017), were crafted solely by the trio. However, starting with their 82-minute monolith Abandonn​é​e​/​Maleja (2018) La Tène expanded into a seven-piece ensemble that now also includes Jérémie Sauvage (electric bass), Guilhem Lacroux (12-string electric guitar), Jacques Puech (cabrette—a regional bagpipe-style instrument from Auvergne, France), and Louis Jacques (cabrette, and a larger 23" bagpipe).
This unconventional blend of instruments, as well as a very particular compositional approach, and stellar musicianship, are undoubtedly major ingredients that contribute to La Tène highly unique sound. That said, listening to their music also makes it apparent that there is also a sublime, ethereal element that truly makes the band's music unlike any other. It is not easy to describe La Tène's sound, however, if I had to draw certain comparisons, I would characterize it as a peculiar blend of THE Velvet Underground, A Silver Mt. Zion (or in some respects Godspeed You! Black Emperor), and Syzygys, with a skew toward medieval folk.
Ecorcha​/​Taill​é​e is the latest offering from the ensemble, and while at its core the release follows the same singular vision as their previous releases—the music is as hypnotic and awe-inspiring as ever—right from the first few seconds of the opener, the band paints a more buoyant and lighter atmosphere. The reason for this may be in the sources of inspiration for these compositions. "L'Ecorcha"​ and "Taill​é​e" loosely quote two distinct musical pieces: "La Passion"—a Christian song documented by French poet and folklorist Félix Arnaudin in 1883, and "Saoko"—a 2022 reggaeton hit by Spanish pop artist Rosalía. Of course, the mentioned compositions manifest in La Tène's pieces tenuously, as if they were processed by an unconscious mind in a dream state, and then completely reinterpreted in the group's unmistakably idiosyncratic style. To me personally, it feels that this open referencing of existing pieces of music, as diverse as they are, as well as a liberally unfettered deconstruction of them by the group, is a good reminder of the inherent connectedness of all music. After all, music is a continuum where every composition is always created in reference to what came before it. Sometimes impelled by it, other times created at variance with it. La Tène masterfully underlines this tight-knit nature of the art form.
"L'Ecorcha​" begins with a softly spiraling chord progression, accented by a delicate percussive accompaniment. Over the course of eighteen and a half minutes, more and more layers are gradually added, the rhythmic section intensifies, and finally, a moving hurdy-gurdy melody starts soaring in a climactic resolution. "La Taill​é​e," on the other hand, is fully centered on the pronounced reggaeton groove emphasized and embellished by other instruments. For nearly fifteen minutes the composition maintains a resolutely high-energy cadence with a swirl of drones and microtonal melodies and only intensifies towards the end. Astonishingly, both compositions were recorded live, each in a single take in a barn that was converted into a ballroom/cultural center. The level of musicianship and creative synchronization between the group's members is amazing.
The sensibility for tradition and simplicity paired with an adventurous spirit, and experimental approaches make it seem as if La Téne exists somewhere between musical timelines. One foot of the band is clearly placed in the cultures of the past, and another one is firmly set in the future. The music feels simultaneously ancient and greatly relevant. Highly recommended!