Bandcamp Friday is back once again! Today, Bandcamp is waiving its share of all sales in order to send profits directly to the artists and labels whose music you buy. So regardless what you're into—experimental, ambient, grindcore, indie, whatever—go to Bandcamp today to help out independent labels and musicians. If you need a starting point for your sonic journey, here are a few of our recent favorite jumping-off points.
Spotlight: Fendoap
For this month's edition of Bandcamp Friday, I'd like to shine a spotlight on Fendoap, an artist and maker of software music devices. Fendoap's primary tool of choice for mangling and manipulating audio is Cycling 74's Max, which if you're not familiar is a software environment for real-time programming and processing of sounds, visuals, and more. Many of us on the Perfect Circuit staff are avid Max patchers, and the boundless varieties of music that can be made with Max is a continuous source of inspiration. We're going to be spotlighting two very recent releases from Fendoap: Subsumption, released on March 3rd of this year, and Swayed By the Waves, which came out just a few days ago on April 1st.
Filled with fluttery arpeggios, immense pads, and smeared field recordings and piano loops, Subsumption manages to be a wide-ranging yet cohesive collection of tracks. Composed as a musical accompaniment for a solo exhibition by painter Ayaka Hara, the music of Subsumption evokes feelings of floating and suspension—perfectly suited for slowly walking through an art gallery. But even outside of this context, I encourage putting on a favorite set of headphones, closing your eyes, and immersing yourself in the sounds.
From the layers of subtle glitches and arpeggios in the opening track "mirage near me" to the distant piano and clicky-clacky percussive blips of "quiet waves of darkness," every track on Subsumption offers a variety of tones and timbres to tickle your ear drums. A consistent element through most tracks is the free-flowing sine-ish arpeggios, drifting in and out of time among the other layers. If you're into the sound of equal-parts glitched out and washed out field recordings à la Tim Hecker, "serene" and "silence with no one" are the tracks to listen to. "vortex" offers more plucky arps drenched in reverb and reverse delays, pleasing any fan of dense ambiences.
For me, the standout is the title track "subsumption." I'm known to be a sucker for expansive pads in the style of classic ambient music, and Fendoap does not disapoint here. The sustained upper layer persists through the descending bassline and chord progression, soon joined by gentle arps peeking out of the wash. And the last minute of track when the key change hits? Incredibly satisfying.
Link: check out Subsumption on Bandcamp!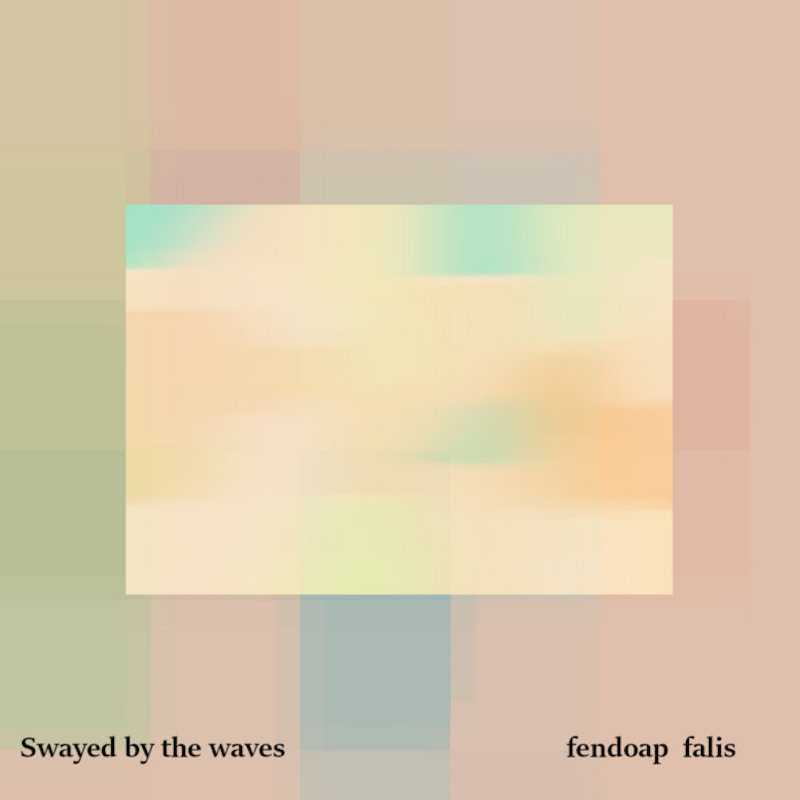 Fendoap released another short collection of tracks earlier this month entitled Swayed By the Waves, a collaborative work with pianist Falis. As a nice bonus for purchasing this release, the download includes a free Max for Live device called RETEXTULE MINI, which was used to process Falis' piano playing. It's a playable take on the pitch-shifting delay with optional reverse playback, but with a twist: there's a reverb placed before the two delays. Thus by setting one or both delays to reverse playback, a wide variety of reverse echo and reverb effects are possible.
Swayed By the Waves happens to be a shining example of what RETEXTULE MINI can do, but considering this work to only be a demo of the device would be selling it short. Tracks were constructed from piano improvisations by Falis and were then edited, processed, and arranged by Fendoap, with additional supplemental layers added where appropriate. The result are tracks that feel less like piano smothered with effects, but more like a duet between pianist and electronic effects.
The opening tracks "a vision of memories seen in the fog" and "swayed by the waves" offer generous helpings of shimmer and crystals-like sounds, serving as complements to Falis' beautiful playing. But the appearance of a beat shakes things up in "Colors of a quiet afternoon," enhanced with glassy and metallic flurries as the drums are processed and recirculated through the pitched-up delays. But in "echoes of the past," any semblance of motion is lost into the wash of shimmering pads, closing out the collection of tracks with a cleansing wash.
Both of these releases and more can be found on Fendoap's Bandcamp page, and if you're an Ableton Live user be sure to check out their Max for Live devices too!
Link: check out Swayed By the Waves on Bandcamp!
Outer Limits of Creativity: The Green Dogs of Dahshur by The Dwarfs of East Agouza
It has been three years since The Green Dogs of Dahshur was released, we reckon that it is never too late to talk about The Dwarfs of East Agouza—a trio with a distinct sound that outstrips any genre definitions. I came across the band's music four or so years ago. Perhaps nudged in their direction by an algorithm that sensed my affinity for Sun City Girls, and synthesizers, I encountered the outfit's album enticingly titled Rats Don't Eat Synthesizers. Immediately enchanted by the sound, I learned that the Cairo-based international collective comprised Alan Bishop (Sun City Girls, Alvarius B, The Invisible Hand) on acoustic bass/guitar and alto-saxophone, Sam Shalabi (Shalabi Effect, Land Of Kush) on electric guitar, and Maurice Louca (Alif, Bikya) taking care of organ, synthesizers, and electronic percussion. With each artist carrying a wealth of individual experience, as well as a distinctive and highly original approach to composition and improvisation, the music manifests as a highly imaginative, free, and deeply entrancing alloy of free jazz, experimental rock, Arabic, and North African music.
The Green Dogs of Dahshur is so far the latest album from the collective. Released shortly before the Covid-19 pandemic started, this album escaped my radar at the time. I listened to it for the first time months after it came out, however, since then, I find myself returning to it quite often. Not unlike the previous two releases of the band, the album offers an uncommonly dynamic and densely psychedelic musical experience, yet it somehow feels airier—perhaps a feature of extended moments of unobstructed textures, and soloed instruments.
The album opens with "The Black Sun Of Intent", an over seven-minute long piece that starts with a twangy guitar intro that very quickly gives way to a saxophone solo, then followed by layers of crackling, and droning guitar—all increasingly converging into a dizzying sonic swirl. The next track, the massive seventeen-minute-long "Organism 43-B", offers a lush and soothing contrast with a vivid intermingling of meandering clean guitar tones, polyrhythms, and enigmatic saxophone melodies. "Bent, Black, and Red" gently sneaks in with low throbbing, continued by a more defined drumming pattern, and rumbling wavering accent tones. As the rhythm progressively mutates, Shalabi's erratic guitar and Bishop's droning saxophone gradually enter, bringing the initially placid sound scene to a nearly breaking point of chaos. The eponymous closer is the shortest track on the album. Symmetrically to the opener, it features no explicit percussion and aptly concludes the record with a spirited mesh of synthesizer, guitar, and alto-sax improvisation. As if we are back where we left off, only we are changed.
While all music inherently promotes appreciation of the journey over the fixation on the destination, The Dwarfs of East Agouza are among the few modern artists who can actually take the road you are unlikely to have traveled before. Importantly, the collective's unrestrained, candid, and exploratory approach results in music that doesn't feel cold, and alien, but decidedly human, warm, and playful. There is no nostalgia here, no cliches, no genre rules, just a group of friends exploring the outer dimensions of musical creativity.
Link: check out The Green Dogs of Dahshur on Bandcamp!
Hypnotic Journeys: Relay, by Booker Stardrum + Chris Williams
The latest release from intermedia powerhouse cachedmedia is also their first cassette release. Relay from trumpeter Chris Williams and percussionist Booker Stardrum is a wonderfully hypnotic trip through two long-form tracks that brings you into an intimate landscape where you can feel free to let the mind wander without worrying about unexpected surprises. Deep and meditative, the two tracks are perfect for cassette, with their distinct explorations that are best enjoyed in a single setting—digital is great, but with the warmth and imperfections of cassette, the sonic incense can truly plume.
The first side is a rambunctious collection of expertly curated, timbrally satisfying sounds that immediately lets you know that you are in for a treat, particularly when the bird-like cawing begins. As soon as the electro-tropicalia manifests, we are then dropped into a new world—a world of lights and speed. This is where the most prevalent feeling of travel, portals, and tunneling starts to show itself. From place-to-place and dimension-to-dimension, each stop we make is buttressed by a journey that clears your mind, preparing you as a blank canvas to receive the textural conversations that ensue. Side A ends in a beautiful eruption that leaves you on top of a hill, ready for sunrise.
Side B opens with the feeling of a journey, gently meandering through a dimly-lit corridor surrounded by strange and comforting sounds. When it finally opens up, you are greeted with a trance-inducing bell and shaker-esque rhythm that calms the mind, only to then be lulled by reverberant trumpet that marks the true start of one's inner exploration. Insect-like sounds float in and build with manipulated trumpet loops as a slow, low swell begins to envelop you. By the time you reach the end, a rush of water brings you back to reality.
Relay is a wonderful release that combines acoustics and electronics in a way that only these true masters of their craft could do. Available digitally or as a cassette, either way is sure to bring about shear pleasure and is a wonderful listen.
Link: check out Relay on Bandcamp!
Sardonic Soap Opera for the Ears: Humbert + Rosenboom's Daytime Viewing
Long-time fans of quirky Californian experimental music are likely already familiar with Jacqueline Humbert, David Rosenboom, and their delightfully tongue-in-cheek work Daytime Viewing. Humbert and Rosenboom, artists deeply embedded in the West Coast experimental art/music scene, came together to produce this peculiar extended narrative song cycle in the early 1980s.
Inspired by daytime television's tendency to amplify mundane experiences into something grandiose, Daytime Viewing is something like a soap opera for the ears: bright colors through a dream-like haze, full of rhythm, wit, and surreal stories of Christmas trees falling on dogs and analyses of high fashion. The backdrop includes the repetitive percussive tones of a Boss Dr. Rhythm and the swirling, evolving tones of the Buchla Touché—an extremely rare computer-assisted keyboard synthesizer designed in collaboration between Don Buchla and Rosenboom himself. Humbert provides a characterful narration that twists between lilting melodies and detached, Robert-Ashley-esque near-spoken-word accounts of humorous, peculiar, and occasionally disturbing scenes.
Originally conceived as a staged performance art piece featuring projections, fashion/costume designs, video, and live theatrical/musical performance, Daytime Viewing was first committed to tape in 1982, and distributed by the artists on cassette in 1983. It remained a relatively obscure until the 2013 vinyl re-release by Unseen Worlds, and now—for its 40th anniversary—it's receiving yet another reissue, this time completely re-mastered from the original master tapes.
The new anniversary reissue of Daytime Viewing includes the previously unreleased track "Narration Theme," as well as instrumental versions of "Talk1" and "Talk 2"; the CD release includes a fold-out poster. Additionally, the vinyl release includes a 16-page booklet with additional artwork, lyrics, and more; a beautiful package fitting this quirky, fantastical piece of music. If you want dreamy soundscapes, trace-like rhythms, and a sardonically-delivered meditation on how we engage with media...check it out.